With its balmy weather, tourist attractions like Hollywood, and stunning natural beauty, California is a vacation destination for millions of people every year. You can enjoy your own California vacation by upgrading your home with a custom pool! A vinyl or fiberglass swimming pool instantly transforms your backyard into a private getaway where you and your loved ones can relax, unwind and create priceless memories — especially when you work with a builder who brings your unique design vision to life. 
California has long been synonymous with swimming pools. During the Roaring '20s (1920s, that is!), inground swimming pools were a symbol of wealth and status for such figures as silent film stars Mary Pickford and Douglas Fairbanks, as well as newspaper tycoon William Randolph Hearst and famed architect Frank Lloyd Wright.
As the decades progressed, swimming pools became more accessible to the middle class. During the 1960s, Southern California had more swimming pools than any other part of the country. Today, nearly a century after pools first made a splash in the Golden State, they are still a fixture of California backyard life. And while swimming pools (as the classic sitcom, The Beverly Hillbillies, noted) may have had their roots as "'cement ponds," many of these older concrete pools from the '50s and '60s have gotten a makeover by way of more modern materials like fiberglass or vinyl liners. 
Learn why California is the perfect location for a vinyl liner or fiberglass pool, and discover how the friendly experts at Latham can help you build the pool of your dreams. We'll cover topics like swimming pool shapes, maintenance tips, pool safety regulations, and more. We'll also answer some frequently asked questions about owning a pool in California at the end of this guide. 
California Fiberglass Pools
Fiberglass pools are valued for their durability, as well as their ease of maintenance and lower cost to maintain over your pool's (long) lifetime. Learn more about popular fiberglass pool designs in California, some important California regulations for residential swimming pools, how seasonality might affect your plans, and a few basic points about swimming pool maintenance. 
Fiberglass Pool Designs for Your California Home
Your pool isn't just a place to swim — it's a beautiful and practical addition that can transform the aesthetic of your entire home and outdoor space. Here are some elegant yet functional design ideas to consider when planning your fiberglass pool. 
Rectangular

– Want a classic, clean, contemporary-yet-traditional style? We suggest a

rectangular pool

— especially if you're interested in the bold look of an infinity edge. The long, lean lines of a rectangular pool aren't just a joy to look at, they make this shape of pool perfect for swimming laps and using your pool for exercise. Consider such models as:
Barcelona

– A classic example of a spacious rectangular pool with gently curved stairs. 

Corinthian 14

– Clever features such as stairs that double as a wide tanning ledge and swim-up seating makes this an ideal pool for entertaining. 

Olympia 12

– Swim-up seating and slip-resistant steps at multiple entry points makes this a great choice for young swimmers, older adults, or adults with mobility issues. 
Freeform –

Get creative and express yourself with a truly custom pool with flowing, organic curves that blend seamlessly into the natural landscape of your yard. Additionally, a

freeform design

may offer a solution if your yard won't accomodate a longer rectangular pool. Some classic examples of freeform pools include: 
Odyssey

– Luxurious with plenty of room to splash, this freeform pool incorporates a humpback design that allows for a tanning ledge or bench. 

Taormina

– Available in a variety of sizes, this freeform model is as perfect for swimming laps as it is a striking spot to entertain. 

Cancun

– With a depth of 3' to 6', this freeform model is ideal for swimmers of all ages and sizes. Swim-up seating and slip-resistant steps offer plenty of places to sit and relax when you're not splashing around. 
Add luxury and functionality by incorporating add-on features into your pool design. Here are a few popular features you can add to your California swimming pool. 
Water Features

– Water features – like fountains, bubblers or waterfalls – add life and visual interest to your pool. From the splashy and glamorous to the understated and chic, you can use water features to express your personality and make your pool stand apart from the rest in the neighborhood. 

Lights

– Pool lighting can be used to create a range of moods, from a classy cocktail hour to a fun pool party for the kids! 

Spas

– What could be more luxurious than your very own private spa attached to your pool? Your built-in spillover spa is guaranteed to become your new favorite destination to relax and unwind. 
You can choose any fiberglass pool shape you like, which can be modified with features like pool lights and add-on spas, as long as you comply with regulations and remain mindful of construction limitations like lawn size and soil composition. 
It's also worth noting that different shapes and designs might work better or be more popular in different areas. Our builders can work with you to create the perfect design for your outdoor space, plus help you compare some of our best-sellers in Sacramento, Los Angeles, or your local area. 
Transforming or Replacing You Current Pool
If you have an older pool and are looking to replace it, fiberglass is an outstanding choice. Many older pools made during the mid-twentieth century were made from concrete – sometimes known as gunite pools. Although durable and easy to customize during the design phase, gunite pools are costly to maintain with various sources reporting average installation costs that range anywhere from $29,000 to well over $100,000. 
Fortunately, the common misconception that only gunite can replace gunite is inaccurate: fiberglass makes a gorgeous and economical alternative! Pool owners can save money — without sacrificing beauty, comfort, or durability — by replacing old or damaged gunite with a fresh new fiberglass pool, which can conveniently be installed in the same hole as the original gunite pool. 
California Pool Regulations
No matter where you live or what type of pool you're hoping to own, it's important to ensure that you comply with any state or local regulations that apply throughout the design and construction process. The California Department of Health displays all of the information you need to know regarding the state's swimming pool laws and requirements here. 
Please keep in mind that state and local regulations around pool maintenance and safety often change. While the important California pool regulations presented here are offered as helpful guidelines, be sure to investigate local laws for yourself to be sure your pool is compliant with the most recent regulations. 
However, before you take a deeper dive into the rules and regulations of pool ownership in California, we want to highlight five key California regulations that you should consider when planning and designing your residential swimming pool. 
What is maximum pool depth?

Most cities in California have enacted codes that prohibit residential pools from being deeper than eight feet. However, it's important to check with your city to make sure that a different rule doesn't apply where you live — which is also a good rule to follow for

any

zoning or permitting issue. 

How far does a pool have to be from a structured building?

For safety purposes, it's vital to make sure there's adequate distance between the edge of your pool and the outer wall of your home (which will also make it easier to enjoy your outdoor space). This distance, which is called the "setback," is usually at least 10 feet but can vary from city to city.

In Sacramento

, for example,"In no case shall a swimming pool be located within three-feet of a property line, building, or other structure." By contrast, Torrance, a city within the Los Angeles metropolitan area,

requires that

"in no case shall the outer walls of a pool be less than five (5) feet from an interior side property line or rear property line or building or be less than ten (10) feet from any side." 

Are fences required around a pool or backyard?

Safety fences (also referred to as "enclosures" in some municipal codes) may be required in certain locations in California. For example, under Sacramento's regulations, pools must feature at least two drowning prevention safety features from a list of seven, with one option being to "isolate" the pool from access by using a fence. Another option is to set up "a gate that is self-closing and self-latching and can accommodate a key lockable device." 

Are covers required? If so, what kind?

A pool cover is not strictly required in every location. However, you may be required to include drowning prevention features in or around your pool, like Sacramento's requirement to choose two safety features from a list of seven possible options. One of these options is to use a safety cover — more specifically, "The pool shall be equipped with an approved safety pool cover that meets all requirements of the

ASTM Specifications F1346-91

." These types of regulations also exist in other major cities, like Los Angeles, whose detailed pool cover regulations can be viewed

here

. 

Are there any water regulations?

In recent years, California has been impacted by droughts and severe weather, including wildfires. You can learn about how this might impact your water usage by visiting the State Water Resources Control Board website to read about

emergency regulations

or, for L.A. residents, the Los Angeles Department of Water & Power, which has shared

FAQs about water restrictions

. Fortunately, most pool owners in California

have not been significantly impacted

by drought-related restrictions. 
It's also important to be mindful that different cities or even neighborhoods might have different regulations as well, which can also be impacted by homeowners associations (HOAs). The best way to know whether you're in compliance is to work with an experienced pool builder, who can help you handle all of the zoning and inspection details with your state and city officials. 
California Seasonality
California enjoys a warm climate that provides perfect "pool weather" almost year-round, ensuring you get plenty of use from your pool — and a great return on your investment. However, as any California resident knows, the state also experiences distinct seasons. This seasonality impacts pool ownership in several important ways. 
For example, during the off-season you may wish to consider using pool heaters, and/or automatic safety covers — the latter of which can help the water retain a surprising amount of heat. You'll also need to be mindful of the possibility of summer droughts, which could impact your water usage. However, even when you aren't swimming, your pool is the perfect focal point for enjoying get-togethers with loved ones, or to simply sip on a drink while you catch up on your favorite book. 
Weather doesn't just impact the way you use or maintain your pool — it also affects the timeline of your construction project. Generally speaking, the best time of year to build a pool in California is fall or winter, ensuring that the pool is ready as soon as the summer season hits. In a state like California that, in many areas, enjoys temperate weather for much of the year, builders may have more flexibility to begin construction at various times. 
In terms of timing alongside seasonality, keep in mind that an inground gunite pool typically requires several months for construction, while a vinyl liner pool can usually be installed in just two to four weeks. A fiberglass pool can be installed in potentially less time, taking only a matter of days since the fiberglass pool itself is prefabricated off site. While your pool is being made, digging can begin in your backyard, making it a swift and seamless process to just pop your completed fiberglass pool into the ground when it's ready. 
Automatic Pool Covers California
Proper pool maintenance is crucial to ensure that your pool stays fresh, clean and safe for swimming. One important aspect of pool maintenance is preventing debris and other foreign objects from entering the water, where they could clog filters, interfere with water chemistry and pH levels, or add pollutants and undesired substances to the water. An automatic pool cover prevents leaves, insects, crumbs of food, and other unwanted items from entering your swimming pool, dramatically reducing the amount of skimming and vacuuming that is needed. 
Of course, automatic pool covers serve an even more important function: other than keeping out leaves and debris, they also prevent curious pets or children from falling in by accident. That means you can solve two problems with a single solution, simultaneously making your pool cleaner and safer. 
Additionally, automatic pool covers save on electricity and energy costs,, as well as helps to conserve water due to evaporation. According to a report by the US Department of Energy, pool covers can save you between 50% and 70% on energy costs. 
Regardless of the unpredictability of California weather, an automatic pool cover can protect your investment. During periods of high heat and drought, a pool cover can help to prevent evaporation and save precious natural resources. Unfortunately, with drought, comes the potential for wildfires, which can deposit debris from resulting aftermath and landslides. An automatic pool cover can help to protect your pool from this debris, giving you one less thing to worry about in the event of a natural disaster. 
And while California is known for it's warm weather, recent years have seen above-average rainfall. Heavy rain can alter your pool's water levels – and pool chemistry. Having an automatic pool cover can offer you an added layer of protection in these instances.
Inground Vinyl Liner Pools in California
Considering an inground vinyl liner pool for your California home? Explore some key topics to help you plan your project, including popular vinyl liner pool designs, a few tips on vinyl liner pool maintenance, an overview of the vinyl pool installation process, and more. 
Vinyl Liner Pool Designs For Your California Home
Vinyl pools can be constructed in a variety of shapes and styles, from classic and conservative to contemporary and cutting-edge. For example, use our pool visualizer to preview a rectangular design in your yard, or try out a freeform design with rounded curves and edges. 
With a vinyl pool, you can take the level of customization even further by choosing your favorite liner color and pattern — for example, an Ultra-Seam liner that boasts almost invisible seams for a true luxury experience. Like their fiberglass alternatives, vinyl liner swimming pools offer a huge range of looks and are suitable for yards of all sizes in California.  
Vinyl Liner Pool Installation Process
While there are numerous differences between vinyl liner and fiberglass swimming pools, such as cost and maintenance considerations, one area where they are similar is the installation process. Although every builder follows their own unique approach, you'll generally go through four basic steps together: 
First, you'll talk about your general ideas and discuss some details about your property. This will help your builder verify that your dream pool can be built in a way that complies with state and local regulations. 

You'll create detailed design plans – which might include any add-on features you want, such as fountains or tanning ledges.

You'll also decide on your preferred

pool shape

and the dimensions of the pool, which you can browse some visual examples of

here

. 

Once all of the plans have been solidified, the construction and installation process can begin. 
Replacing Vinyl Liners or Reshaping Your Pool
People have been building swimming pools in California at least as far back as the 1920s. While most swimming pools aren't quite that vintage, you may have a pool that was originally built in the 2000s, '90s, or even earlier. If your pool is 20 to 30 years old (or older), it's time to upgrade its appearance. Fortunately, one of the benefits of a vinyl liner swimming pool is that you can easily replace its liner, ensuring you have a fast and affordable way to give your pool a fresh new look at any time!
The beauty of a vinyl liner pool is that even older pools can be given a facelift to match your lifestyle and personality. Did your old pool have a tanning ledge or water feature that's just not your style? Do you want a different shape or more depth to your pool? If so, updating the footprint of your existing pool is an option! Liners can also be removed in order to create a new shape. 
Older features can be updated to have a more modern feel, covered over with a vinyl liner or you can also consider adding stairs if you have young children, older adults, or people who have mobility impairments using your pool. 
Learn more about vinyl liner replacements — and whether it might be time for one. 
Vinyl Liner Pool Maintenance in California
There are different maintenance considerations for vinyl liner and fiberglass swimming pools, so it's  important to be aware of and plan ahead, regardless of which option you choose. Here are a few of the steps you'll need to take in order to care for your vinyl liner pool properly, enhancing both its beauty and its lifespan. 
Brushing the pool.

Be certain to periodically buff the liner gently with a non-abrasive brush to remove dirt and other debris that may have accumulated on the walls of the pool. 

Tending to the waterline.

The area around your swimming pool's waterline is susceptible to becoming faded, stained, or discolored. You can help prevent this by cleaning the area regularly using a soft, non-abrasive sponge. 

Managing water chemistry.

If your water's chemical balance is off, not only can your liner become damaged or discolored — you might

also

find yourself dealing with other unpleasant issues, like skin irritation or the growth of algae in the water. Learn how to prevent these and other problems with our

guide to balancing your pool's pH level

. 

Dealing with wrinkles.

If properly applied and cared for, a vinyl swimming pool liner should feel taut and smooth. However, wrinkles can develop due to causes like too much moisture in the soil, or liner absorption being affected by chlorine or bromine imbalances. If you notice wrinkles, folds, or other irregularities in your liner, talk to a builder about the best solution for the issue.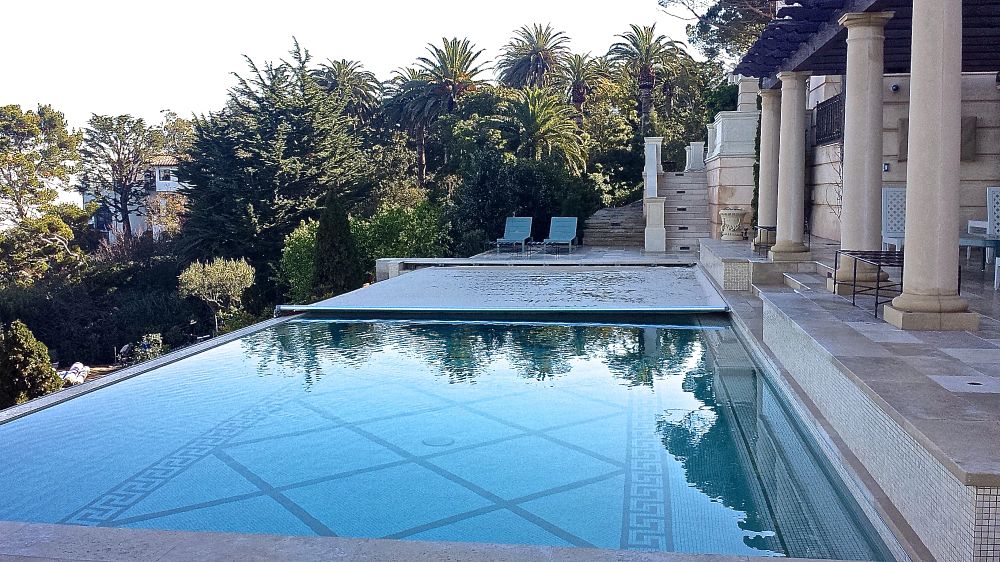 California Pool FAQs
Below, we'll answer some of your most frequently asked questions about building and maintaining a  vinyl or fiberglass swimming pool in California, including: 
How much does it cost to install a fiberglass pool in California?

Is an automatic cover worth it for a swimming pool in California?

What is the lifespan of a fiberglass pool in California?

What type of inground pool is best for California?
How much does it cost to install a fiberglass pool in California?
In California, as in any state, there are numerous factors that impact the final cost of your fiberglass swimming pool. Examples of these factors include the size and design of the pool; whether you decide to add any special features, such as tanning ledges or custom lighting; the style and amount of coping; whether there are any special construction issues, such as having a steeply sloped lawn; and other factors that vary from project to project and pool to pool. The best way to get an accurate estimate of your project is to speak with a builder, who can give you a clearer idea of the budget range to construct and maintain your ideal pool. 
What type of inground pool is best for California?
The best way to determine the right option for you is to speak with a builder, who can make a personalized recommendation after learning more about your property, your lifestyle, and your vision for the inground pool. However, if you're looking for general advice on inground pools in the Golden State, here's what expert Pool Builder Shawn Thomas has to say:
"The bulk of our installs here in Northern California are the Corinthian line. The three different sizes, classic swimming pool shape and sheer elegance seem to resonate the most with new pool owners. The fact that the shape is easier to put decking around seems to be a selling point for them as well. We have yet to finish a project where the client wasn't 100% satisfied and visibly excited about their new backyard."
– Shawn Thomas, AKS Construction | Anderson, California
What is the lifespan of a fiberglass pool in California?
Depending on factors like how frequently you use the pool, whether you protect the pool with an automatic safety cover when not in use, the type of weather it is subjected to, and how diligent you are about pool maintenance, the average lifespan of a fiberglass pool in California can range anywhere from 25 to 30 years. Some fiberglass pools, if well-maintained, can last more than 50 years! However, longevity isn't the only benefit of fiberglass pools, which also offer durability against wear-and-tear and reduced lifetime maintenance costs. 
Whether you choose fiberglass, vinyl, or even gunite, you should discuss warranties and insurance coverage with your pool builder in order to ensure that your investment will be protected to the greatest extent possible. 
Is an auto cover worth it on a pool in California?
In short: yes! Not only do automatic safety covers prevent accidents and save lives, they also cut down on the need for physical pool maintenance by blocking leaves and other debris from falling into the water. Your pool will be safer and cleaner with an automatic cover installed — plus, it can help you meet the drowning prevention pool feature requirements that apply in your town or city.  
Start Your Pool Project in California Today
Who says you have to live in Beverly Hills to enjoy movie-star, mansion-style luxury? With its gorgeous climate, dazzling scenic beauty, and the free-spirited lifestyle that made it famous, California is the perfect place to enjoy a custom-designed swimming pool — anywhere in the state! Whether you choose vinyl or fiberglass, large or small, you'll get more fun, more value, and more enjoyment out of your home with a beautiful swimming pool as the centerpiece of your outdoor space. 
Make your dream pool a reality. Talk to the expert pool builders at Latham. We'll help you take the first steps today!