A fiberglass or vinyl liner pool with a spa is an affordable luxury that will become your own private enclave: a retreat in which to shed the day's stressors. Imagine having the resort experience of a warm, softly bubbling spa just steps from your door, ready for you to ease into its silky depths anytime.
FIBERGLASS AND VINYL LINER POOL OPTION:
Latham Inground Pool Spas
Latham is proud to have created tens of thousands of stunning fiberglass and vinyl liner inground pools with spas for clients all over North America. For over 60 years, we have delivered expert knowledge, top-quality swimming pool products, and excellent customer service. We have received ICC-ES Certification (ICC-ES products are a building inspector's top choice for long-lasting and high-quality manufactured goods) for our products. To ensure you feel confident and excited about your purchase, Latham also offers the most comprehensive and long-lasting warranty in the swimming pool industry.
Latham Royal Spa
Photo courtesy of Aqua Pools, Illinois
Latham Delray | Royal Spa
FIBERGLASS AND VINYL LINER POOL OPTION:
Latham Spillover Spas for Inground Pools
A fiberglass pool and spa are more than an attractive complement to your home. A pool with a spillover hot tub is an opportunity to recharge and refresh in the comfort of your backyard. A soothing soak in your personal spa or a refreshing dip in your pool's cooling waters will be within effortless reach. The beauty and sound of the cascading water as it flows from the spa to the pool allows you to enjoy your pool and spa, whether you're relaxing in it or lounging beside it.
Vinyl Liner Pools | Electric Aquarias
Photo courtesy of J&M Pool Company, Georgia
Vinyl Liner Pool | Blue Mosaic
Photo courtesy of J&M Pool Company, Georgia
Things to Consider
Fiberglass and Vinyl Liner inground pools with a built-in spa are a fantastic way to indulge in a personal extravagance. However, before moving forward with a swimming pool spa, consider the following:
Latham offers fiberglass and vinyl liner pools and spas for a variety of backyard sizes. What is your budget for your pool? While you can install a combination fiberglass pool with a spa for a reasonable cost, you may want to allocate money for accessories like water features and LED inground pool lights that will transform your pool into a beautiful, personalized extension of your home. What style fits your outdoor aesthetic? Latham Pool Products has a generous selection of pools and spillover spas in different shapes and sizes that can be customized with gorgeous tile and pool mosaics. Our experts will help you determine the optimal size and shape for your pool spa while working within the constraints of your budget.
Fiberglass | Barcelona
Photo courtesy of Executive Contracting, Canada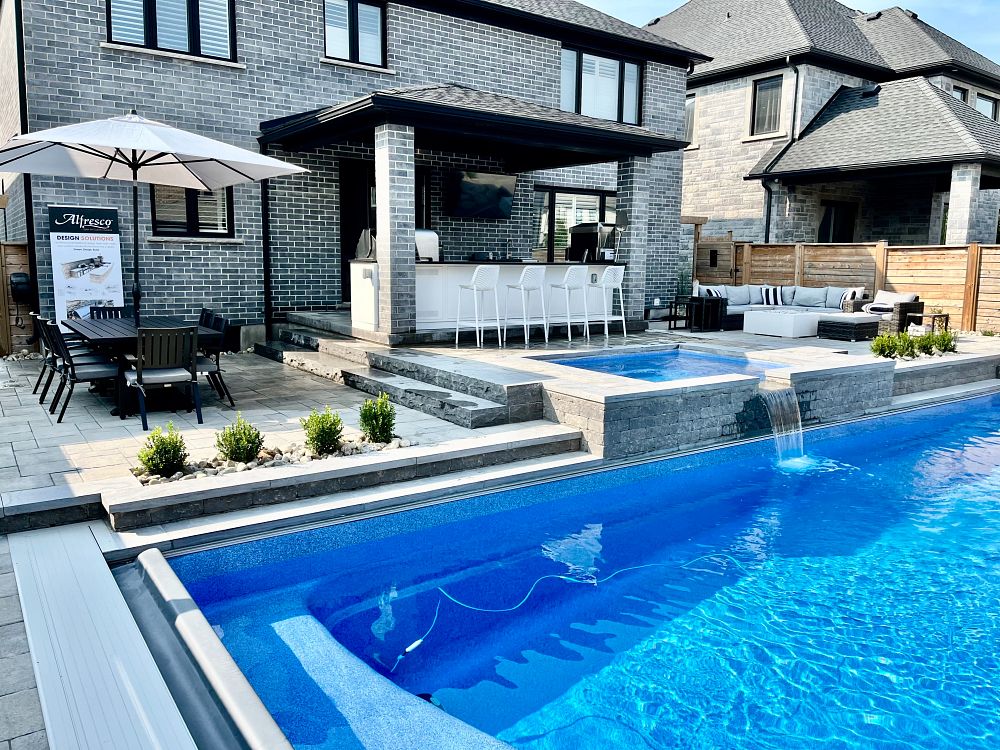 Fiberglass | Shasta in Granite
Photo courtesy of Luxe Pools, Washington