Pool liners are the fearless leaders of every vinyl liner pool. Not only do they command the beauty and attention of everyone in the neighborhood, but they also serve as a vessel to hold tens of thousands of gallons of pool water. Beyond its functional purpose, a vinyl pool liner can influence the entire look and feel of your pool. Choose a color or pattern that fits your unique taste and your swimming pool becomes the focal point of your ultimate backyard sanctuary. Replacing your pool liner provides even more opportunities to express your creativity.
How Often Do Pool Liners Need to Be Replaced?
Vinyl swimming pool liners typically last anywhere from 10 to 15 years from the time of installation, depending on a range of different factors. Variables like water chemistry, sun exposure, frequency of use, and liner thickness can all affect the lifespan of your liner. Maintaining the proper water chemistry is vital to increasing the longevity of your vinyl liner.
Cleaning your pool regularly and maintaining a proper water balance can extend the timeline for your vinyl pool liner. Learn more about how to clean your pool and how to balance the water chemistry.
With so many factors at play, it's not always easy to tell when it's time to replace an old or damaged liner. So how do you know when your pool liner needs to be replaced? Learn about the warning signs that indicate it's time to replace your current liner below.
Vinyl Liner | Panama / Royal Prism Liner
Four Signs That It's Time to Replace Your Liner
The liner develops visible defects, such as cracks, tears or wrinkles.
There are stained, discolored, darkened or faded areas on the liner. While some amount of fading is normal, it may be time to replace your liner if it's faded to the point that you can no longer determine a pattern.
The liner seems to be stretching out or falling out of the track in areas where you can actually see the pool wall.
The liner may be detaching from the bead. The bead holds the liner in the tracking around the top edge of your pool.
Replacing Your Vinyl Liner
Replacing a vinyl liner on your inground pool gives you the unique opportunity to update your footprint and give your pool a new, fresh look. A replacement vinyl liner lets you customize or upgrade your pool. But you don't have to wait until it's time to replace your liner to upgrade your pool. You can get ahead of the curve and replace your pool liner when you want a new look, or simply wait until it's time to find a new one.
When you replace your vinyl liner, it's also a great opportunity to consider new features and add-ons for your pool. Maybe you want to add some custom stairs or customizations to make your pool more accessible to older or younger family members. A tanning ledge can offer another way to enter the pool or you can change your steps or railing for younger family members. From vanity changes to accessibility, the possibilities are endless.
Curious how different liner patterns will look in your pool? The Latham Liner Visualizer makes it easy to explore a wide variety of patterns applied to a pool similar to your own.
Vinyl Liner | Blue Seastone
Photo courtesy of Les Services, Canada
Vinyl Pool Liner Replacement Cost
Have you been putting off replacing your swimming pool liner because you're worried it's going to cost a fortune? Replacing a vinyl pool liner is more affordable than you think. Some factors that can impact the total cost of replacing a pool liner include, but are not limited to liner material, liner size, features and liner thickness.
Disco Pearl Liner Pattern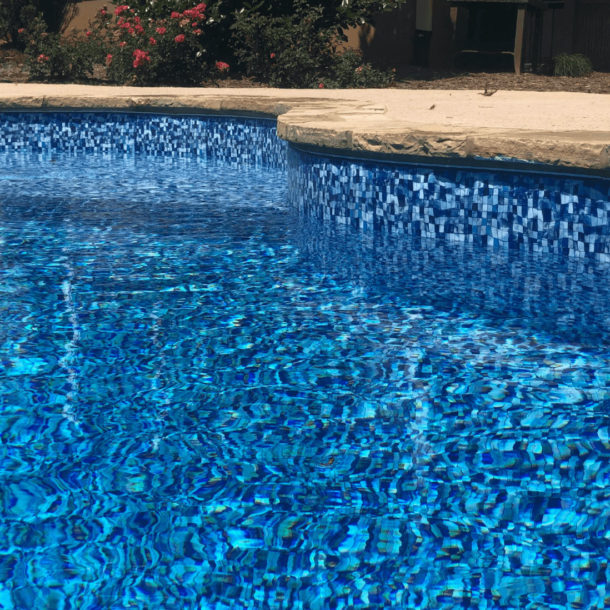 Vinyl Liner Replacement Cost: 1/3
Liner Materials
Vinyl liners are economical, come in a wide range of unique design styles and are relatively easy to maintain and replace, which has made them a popular option among pool owners since they were first introduced in the 1950s. However, not all vinyl liners are the same. Liners can vary in quality and durability, making it important to choose a reputable and knowledgeable dealer. For example, Latham liners feature cutting-edge UltraSeam technology that offers advanced strength and protection, which is exclusive to the Latham brand.
Legends / Deep Blue Fusion Liner Pattern
Vintage / Blue Mosaic Liner Pattern
Vinyl Liner Replacement Cost: 3/3
Liner Thickness
Vinyl liners are available in a range of thickness options, such as 20 mil and 27 mil pool liners. Thicker liners (such as 27 mil liners) cost more to install than thin liners (such as 20 mil liners), but are more durable and therefore save money on long-term maintenance over the course of their lifespan.
Replacement Vinyl Liner Options & Benefits
Latham offers a wide assortment of vinyl liners for pools of any size, shape or style, from classic oval and rectangle pools to kidney, lagoon and countless other layouts. Whether your swimming pool is large, small, geometric, rounded or even asymmetrical, we have the perfect look to complete the design of your dreams this summer.
Use our visualizer application to test out custom creations, or explore our full range of liner patterns, colors and textures. And don't forget — replacing your liner is the perfect time to add value (and boost the fun!) by making stylish upgrades like tanning ledges, safety covers and accessibility-improving steps or benches.
What Are the Best Pool Liners?
One important variable to consider is the thickness of the liner, which is expressed in units called "mils" that represent thousandths of an inch. Liners commonly range from 20 mil (0.020 inches) up to 27, 28 and even 30 mils thick. Liner thickness is referred to as a "gauge" in some areas, but it's important to note that gauge and mils are not equivalent units. For example, a liner could be described as 30 gauge while the thickness could be measured at 27 mil (0.027 inches). When speaking with a dealer about liner thickness, make sure to clarify whether you are talking about gauges or mils to ensure proper measurement.
Different pool liners have pros and cons that make them suitable for different types of pools. Thicker liners have higher up-front costs because they are heavier and can be more difficult to install. Thinner liners, like 20 mil liners, are lighter and can be more cost-effective and easier to install.
Dealer preference and regions of North America are the two main drivers for different mil thickness. Regardless of the mil thickness, choosing a Latham quality liner is the right choice and why Latham offers the same performance and warranty for all of our vinyl pool liners.
Vinyl Liner | Bali / Blue Granite Liner
Is a Light, Medium or Dark Pool Liner Better?
The design you choose can impact not only the way your pool looks but also how it feels to swim. Darker liners absorb more sunlight than light liners, enabling the water to heat up faster. In cooler climates, such as the Northeast US, a navy or vivid blue liner can help you trap more heat. In hot climates like the Southeast, a light blue or aqua-colored liner can help deflect heat and keep the water refreshingly cool.
Temperature isn't the only factor to consider when choosing a liner color. Dark liners have the advantage of making your pool look cleaner since they tend to obscure dirt and debris. However, light liners have an advantage of their own: they're more resistant to fading, meaning they may need less frequent replacing. If you can't decide between light or dark, you can consider a medium color option instead.
Learn more about choosing the perfect vinyl liner pool color, or try out our Liner Visualizer tool to explore how different patterns look during the day or night.
Vinyl Liner | Disco Pearl
Photo courtesy of Betz Pools Limited, Canada
Learn More About Replacing Your Pool Liner
An inground vinyl liner pool truly lets you create a custom backyard experience. Latham's modular vinyl liner pool system provides the flexibility to create a custom shape that fits your space and your style, whether you're building a new pool or are in the process of adding custom add-ons while replacing your existing pool's vinyl liner.
From wall types to liner patterns to custom add-ons, the options are endless to help make your vinyl liner pool meet your unique needs.
Of course, you don't need to wait for your liner to become weathered or damaged before you replace it. In fact, installing a new liner in an older swimming pool is a great, cost-efficient way to completely upgrade the look of your pool, giving your entire yard a fresh breath of life — and an added boost of curb appeal. And with so many patterns, colors and styles to choose from, Latham makes creating your custom dream pool easy and fun.
There are many how-to guides and videos online that explain how to install a swimming pool liner. However, unless you already have extensive experience installing pool liners at home, we recommend contacting an independent licensed dealer or pool professional to help you ensure that the job is completed properly.
What are the benefits of hiring a professional to install your pool liner, and why should you trust Latham with this important investment? Latham independent dealers undergo extensive training and use specialized industrial tools that are designed to cut each liner to precision specifications. This measurement process allows us to custom-fit liners to pools of any shape or size with exceptional accuracy, ensuring there are no leaks or tears. In addition, independent Latham builders follow strict requirements that comply with pool and hot tub building codes, which must be obeyed when constructing or modifying swimming pools on your personal property. Last but not least, it's important to keep in mind that DIY repairs and installations can affect or potentially void your warranty, leaving you without coverage when you need it most.
Avoid these hassles and headaches by working with a trusted independent dealer, like one from the Latham network. An independent Latham builder will do all the work so that all you have to do is sit back and enjoy your new or upgraded swimming pool.
We do not recommend installing a new swimming pool liner over or on top of the existing liner. While this might seem like a time-saving shortcut, the opposite is actually true. You will need to regroom the bottom of your swimming pool and install a new liner pad before adding the new liner.
This means it will be easier (and more cost-efficient) to install a new liner following the regular method, which involves draining your pool and removing the original liner before a replacement can be installed. Note: never drain a vinyl-liner pool without consulting your dealer.
Learn More About Replacement Vinyl Liners
Latham is the #1 replacement liner manufacturer in the North American residential inground swimming pool market, a reputation that's built on more than 65 years of dedicated service and commitment to excellence. Our vinyl liners are available in a wide range of styles that all come with built-in UltraSeam technology, making seams invisible and increasing the strength of your liner. Request more information to learn more about replacement liners today!