Fiberglass pools are highly coveted for many reasons. They're built to last, they arrive at your home ready to be installed and they're highly customizable. This fiberglass pool pricing guide will help you map out a budget, explore financing options and make your dream pool a reality.
Cost Considerations for Your Fiberglass Pool Experience
Few things are more exciting than getting a new pool. Maybe you're envisioning the sun glinting off of pristine blue water as you sit poolside on your own patio. Or perhaps you're already feeling cool water and the crisp, clean aroma of chlorine on a hot summer day.
In order to make the dream of a gorgeous new pool a reality, it pays to explore your options. Some considerations when budgeting for a fiberglass pool include:
The size and shape of the pool
Fiberglass pool add-ons, such as coping, railing, retaining walls, steps and water features
Landscaping work to prepare your backyard for fiberglass pool installation
Installation time, which can be influenced by things like geographic location and the layout of your landscape
Fiberglass Inground Pool Prices
Building a pool is an exciting venture for you and your family. When it comes to fiberglass pools, the price can vary based on certain criteria and options you choose to include to create your ultimate backyard oasis.
We can start with an average range and help you understand the factors that can influence the price of your pool. Once you understand that, you'll be one step closer to building your dream pool.
Backyard with fiberglass inground pool: $50,000 – $150,000
Note: This range is a basic estimate, exact pricing will vary.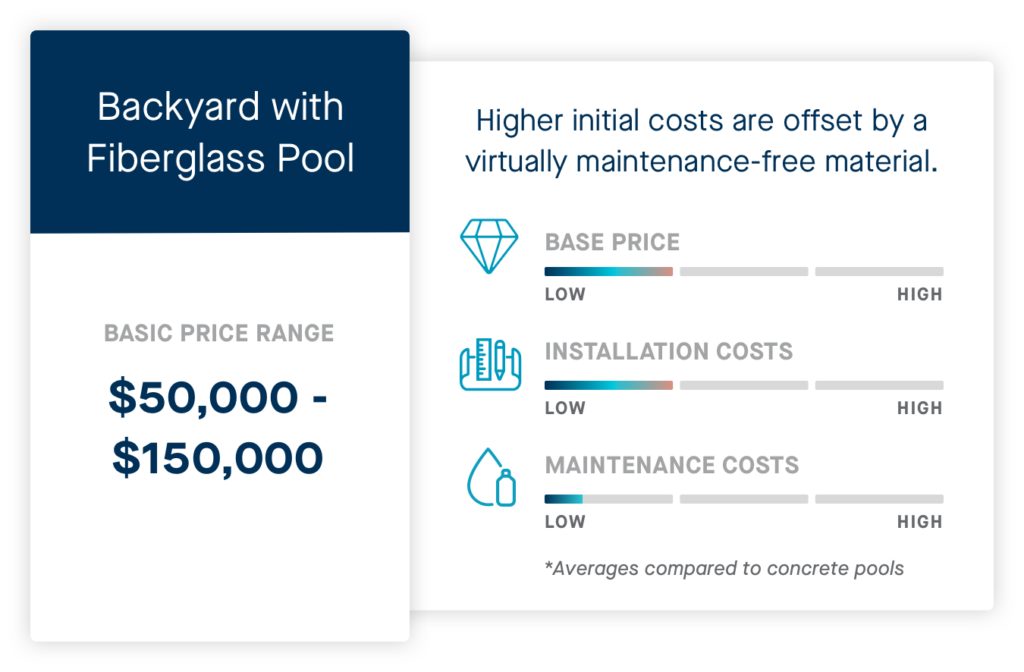 Fiberglass Pool Installation Cost
There are additional considerations that can impact the overall fiberglass pool installation costs. These factors include things like your personal preferences, geographic location, any specific requirements for your city or neighborhood and associated landscape concerns.
All you need is your vision and we can bring it to life, but it's helpful to understand these installation factors so you can work with a dealer to take the best approach with the installation process.
Click the arrows below to explore the various fiberglass cost factors which include: 1) Requirements 2) Features 3) Safety 4) Electrical.
Learn More About Installation Cost Factors
How Much Does it Cost to Maintain a Fiberglass Pool?
One of the most appealing aspects of a fiberglass pool is its longevity and durability. With a fiberglass pool, you don't have to worry about repairing damaged concrete or replacing the pool liner. The initial investment may seem steep, but remember, spending more upfront will allow you to enjoy your pool for years to come and save you from costly, time-consuming repairs.
Check Your Pool Warranty
Another factor to consider when you weigh the cost of a fiberglass pool is whether a warranty is included and what it covers. Some pool manufacturers will require you to pay extra for a warranty and this can increase the initial cost of your pool. At Latham, we understand a pool is a significant investment. Our pools are backed by our legendary limited lifetime warranty, which is the longest in the industry and allows pool buyers to have confidence in our products.
Our limited lifetime warranty combined with the minimal upkeep requirements of a fiberglass pool means you can feel good about your investment knowing that it doesn't come with hidden costs down the line.
Fiberglass Pools are Long Lasting and Durable
If you're looking for a worry-free pool you can enjoy for years to come, a fiberglass pool is an excellent investment. Compared to concrete pools, fiberglass pools are easier to maintain, stronger and more durable.
The upfront costs may seem higher than other pool types, but this eliminates the need for costly repairs and maintenance. All things considered, a fiberglass pool may actually cost less in the long run because you won't need to pay for replacement parts or repairs.
Building a pool is just like building a house. If you invest in high-quality materials and features like new window treatments, you save yourself time and money in the long run. You can save a few bucks now by using subpar materials, but you will have to replace things faster and this will end up costing you more. Why not invest in high-quality materials from the start?
Helpful Tools
Pool Cost Estimator
Use our pricing estimator to get a better idea of what a fiberglass pool might cost. Customize your design to see how different pool sizes, shapes, materials and features will affect the price.
Interested in financing the pool of your dreams? Check out our financing page to learn how you can turn your dream into a reality.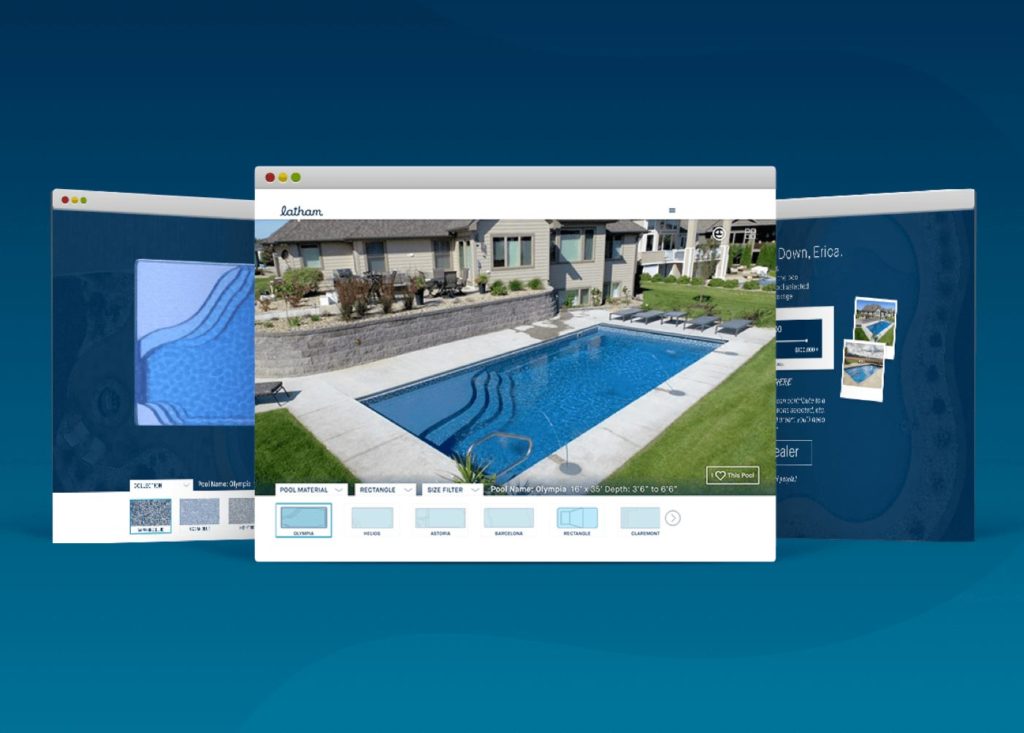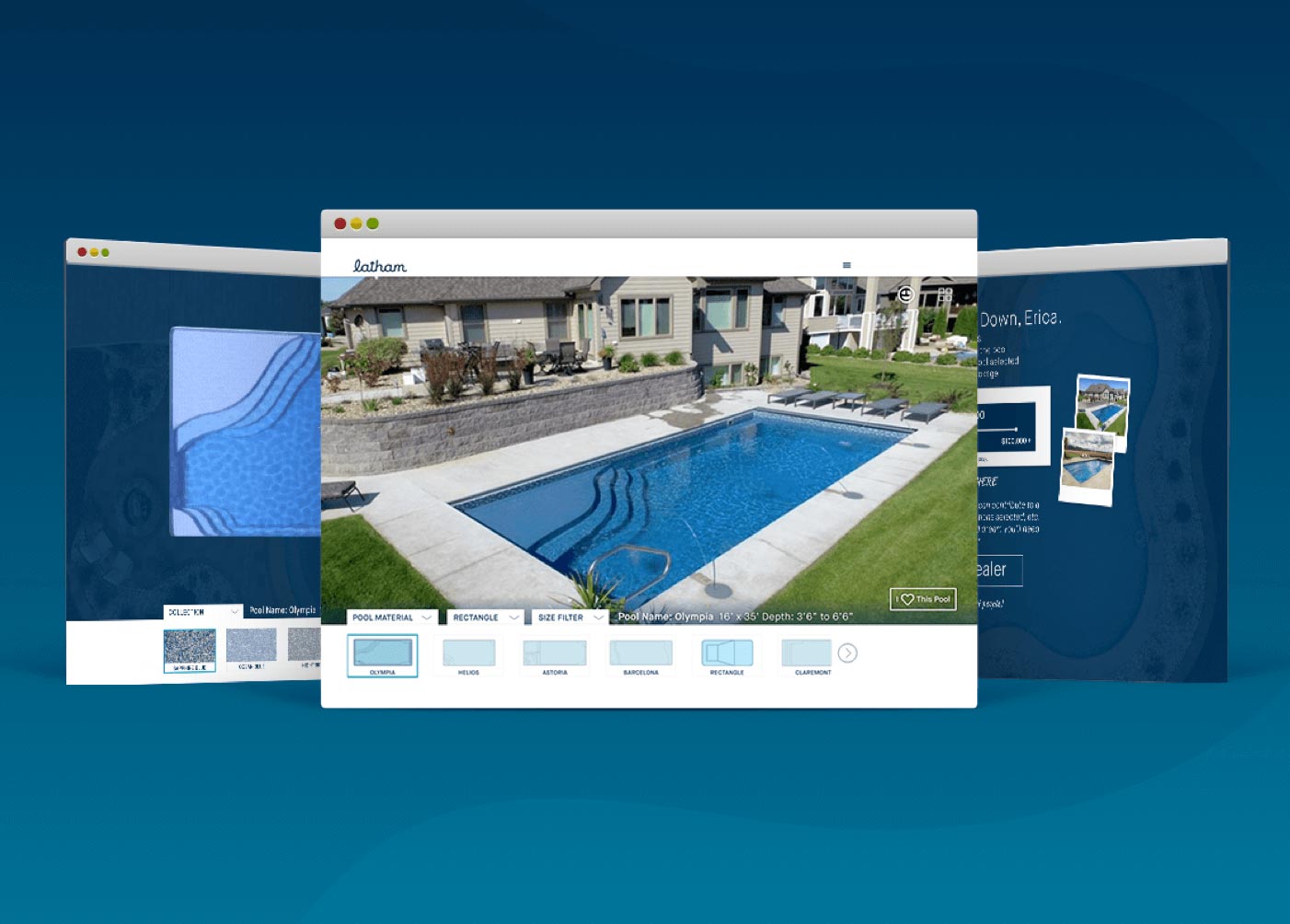 Get a Fiberglass Pool Quote From a Latham Independent Builder
Now that you understand the average cost of a fiberglass pool, we want to help you get a custom quote so you can start planning the pool of your dreams. Take the next step in your pool-planning journey and Contact a Builder to get a more detailed price quote.
If you have any other questions, request more information to receive educational resources curated by a knowledgeable Latham team member.
Explore Other Swimming Pool Cost Guides