At Latham, we provide the best pool-planning experience. We offer three different ways to go about it, discovering content on your own, engaging with us directly, and connecting with a local independent builder. Whichever way you decide, you will find answers to all your questions and resources for additional help.
How Can we Help? Jump to: Talk to Latham | Speak to a Builder | Help Yourself
Talk to Latham
We will guide you through all phases of the pool-planning process. Informing and educating you on all the options is our focus. We understand everyone's needs are different, so we've set up content and tools that put you at the helm. We're here to listen and respond to your needs for the entire lifespan of being a pool owner. We have decades of experience to share, so let's engage; we're looking forward to it.
Please hover the boxes on the right to explore available options and click the appropriate link provided to proceed further.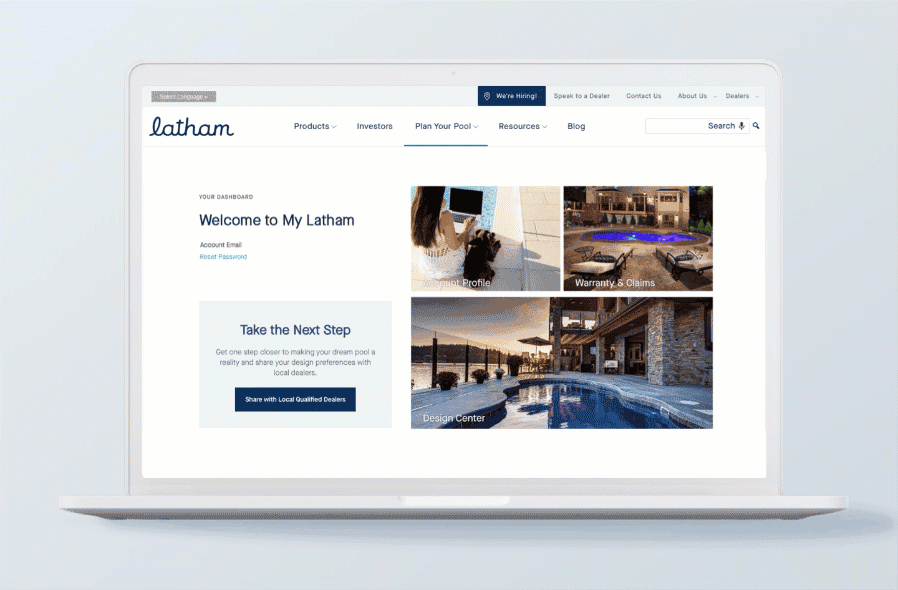 My Latham Account
Get the tools you need to design and plan your ultimate backyard pool experience. Create a My Latham account to: Save and share your pool cost estimator results, plan your backyard wishlist, easily share your designs with dealers to get started.
Create Account
Contact Latham
Click the button below to see what information is available and if necessary continue to fill out the form to get in touch with us today.
Contact Latham
Request More Information
We have an extensive library of resources that go in to detail on all of our products. From e-books on selecting the perfect pool shape to detailed guides on water care, we have it all.
Request Info
Speak to a Builder
Latham works with a network of independently owned and operated pool builders. These builders are experts in the pool industry, most of which we have trained on the installation of our Fiberglass and Vinyl Liner Pool products. They are well prepared to install a Latham pool and help make your backyard lifestyle a reality. It's important to remember that they are not representatives of nor affiliated with Latham.
Vinyl Liner | Blue Mosaic Liner
Help Yourself
Everyone's needs are different, especially with a life-enhancing purchase decision. At Latham, we understand that, so we offer an empowering experience by putting relevant content and tools at your fingertips. We provide access to content that speaks to all facets of our products and enjoy editorial content that focuses on pool essentials, like maintenance and safety. Explore our Help Center and our Literature Center so you can confidently achieve the backyard of your dreams.