Every inground swimming pool should feature a durable entry system. Inground pool steps make swimming safer while enhancing your inground pool's beauty and comfort. Complete your pool with custom inground pool entry steps by Latham — a trusted industry leader with more than 65 years of experience. We can tailor unique pool stair designs to pools in any style or size, including built-in and drop-in designs in polymer or steel.
Our Inground Pool Stairs
Latham Pool Products offers two general types of step categories for inground pools: vinyl-over and molded pool steps. Both use the finest construction designs and materials and are backed by industry-leading warranties, which provide years of enjoyment within your pool.
Vinyl-Over steps allow for both standard stairs and custom-designed solutions for current and future pool features within the perimeter of your pool while molded steps offer specific step shapes that are added beyond the pool walls.  The two key decision factors between the methods tend to be imagination and budget.
Learn more about: Vinyl-Over Steps  |  Molded Steps
Vinyl-Over Steps
Celebrity in Reef
Photo courtesy of South West Fence & Decks, Ontario
Molded Steps
Rectangle (Vinyl Liner) Vinyl Liner Pools
Photo courtesy of Aquasizers Pool Company, Kansas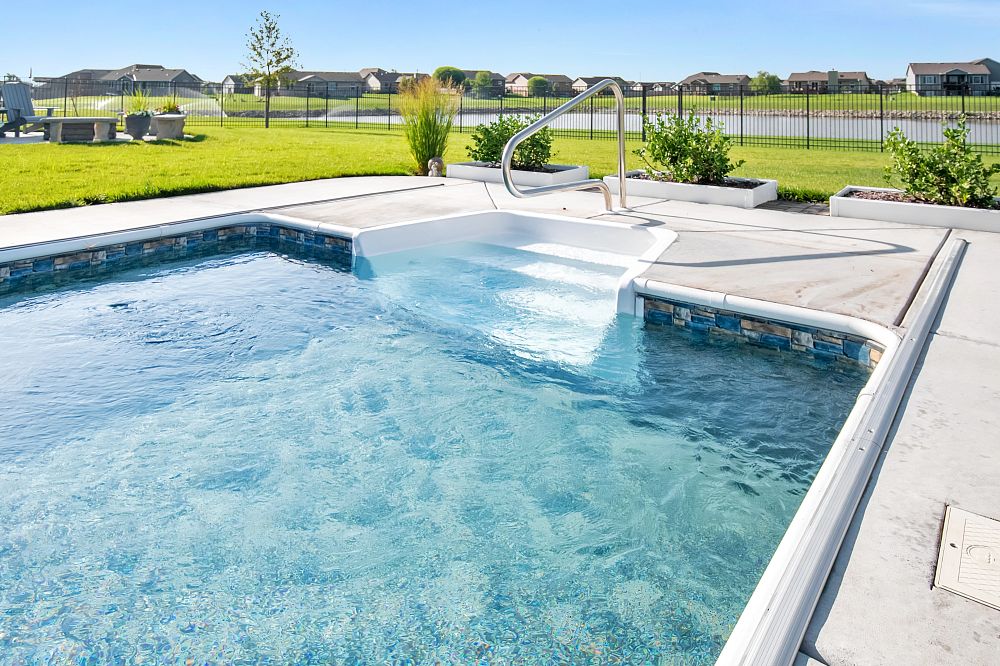 Vinyl-Over Steps Options
Vinyl over steel or polymer steps are a beautiful match for your pool. The vinyl liner material matches the pool and envelops the steps completely, creating a sleek appearance. Choose from countless options of step designs, benches and ledges to create the ideal pool of your dreams.
Vinyl-Over Pool Steps Features and Benefits
Vinyl-Over steps provide a seamless look and feel for your pool. These steps are installed within the perimeter of the pool giving a sleek style that mimics that of concrete pools with the added style of your vinyl liner. Vinyl pool liners are designed to be an exact fit over the steps.
Use either existing or custom-made designs: Designs extend as far as your imagination will take you.
Add-on unique features: Features such as tanning ledges and fountains can be incorporated into your designs.
Textured vinyl surface: Our Tread-Tex textured vinyl for the steps provide additional comfort and convenience for entering/exiting your swimming pool with a seamless look.
Vinyl Liner | Electric Aquarius Liner
Photo courtesy of Water Works Group Inc
Vinyl-Over Step Design Considerations
Beyond aesthetics, it's also important to think about the functionality and mechanics of your pool steps. It's not just about how you plan to use your pool, but also who will be using your pool.The right type of pool steps can help you maximize your enjoyment, or make it easier for people to get in and out of your pool. Additionally, you'll want to consider how your steps and any features you plan to incorporate will work with a pool cover.
Typically, you'll enter your pool at its shallow end. The size and shape of your pool may dictate where this shallow end may sit – and, consequently, where you'll place your steps.
If you plan to use your pool to swim laps, straight steps won't take up a ton of real estate. In terms of pool safety, straight steps can be a great choice if you have small children, older adults, or people with mobility issues using your pool, as these steps span the width of your pool. Straight steps can also give young children a wide ledge to play on in the shallow end.
If you have a smaller linear-shaped pool, you may want to consider adding corner steps in a shallow corner of the pool. They may not be as wide as straight steps, but can offer easy entry for most adults. If you don't plan on having seniors or young children use your pool, these steps can be an attractive option that doesn't take up much space. Additionally, these corner steps can take on a fun "wedding cake" shape that adds flair and aesthetic appeal.
If you have an irregular-shaped pool (such as a kidney-, clover-, or lagoon-shaped pool), you'll want to place steps at its most shallow point – typically, indicated by the smallest curve on your pool. Radius steps with a curved design work well with these uniquely-shaped pools.
If you plan to use your pool for entertaining, built-in benches and ledges offer valuable seating and entertainment space so your steps can double as a lounge area. With this set-up, you and your guests can face each other and enjoy some poolside conversation (and maybe a drink or two).
Handrails can enhance the safety of your pool by offering added stability to people entering and exiting your pool. This can be especially helpful to seniors, kids, or people with mobility issues who will be using your pool.
Handrails are placed at the entrance of the pool, allowing users to get in and out easily. While a handrail may be placed in the shallow end to enter the pool, you may also want to consider adding a swim ladder in the deeper end to offer an easy exit without the benefit of pool stairs.
Depending on your pool setup, surrounding decking materials and choice of stairs, some handrails can be anchored on one end outside of your pool, embedded in concrete or your decking material of choice. The other end can be anchored inside your pool, through the center of one of your steps. If you don't have decking material around your pool, some molded pool step options can incorporate holes in two of the steps where a handrail can be installed.
If you plan to have an automatic pool cover for added safety, you'll want to consult with your builder about making sure your handrail's placement does not impact your cover's ability to close properly. Making sure that your pool cover has ample clearance to glide over any embedded rail or that your railing curves in such a way that an automatic pool cover can securely close without getting stuck on the railing is important to the overall safety of your pool and guests.
Another factor to consider with an automatic pool cover – or any pool component that uses electricity – is that metal fixtures in and around your pool will require bonding to ground them. Metal handrails or pool ladders can sometimes deliver a light "shock" to users if the pool has not been properly grounded with a bonding grid. Your pool builder or electrician can be a valuable resource in making sure this is done correctly before anyone uses your pool, making sure it's safe for everyone!
Explore Our Most Popular Vinyl-Over Steps Styles
Molded Pool Steps
Latham molded steps are a proven choice for your vinyl liner pool. Whether you select acrylic fiberglass or thermoplastic, you'll enjoy years of easy maintenance. Latham has the industry's largest selection of preformed step and entry options with over 60 models, multiple color options, and profiles to perfectly coordinate with the pool of your dreams.
Molded Pool Steps Features and Benefits
Latham's sturdy thermoplastic in-wall steps add both function and beauty to your pool. With a wide variety of options, there are countless choices of steps, built-in lounges for relaxing, and even a sunledge to gather with the people closest to you.
Large selection of shapes and colors: Latham has various a variety of different step options that will fit your particular design. Choose from over 60 styles in White, Blue Granite, or Grey Granite to complement any vinyl liner pattern.
Fully integrated step tread pattern: Molded-in tread pattern allows for safe and easy pool entry and exit
Lifetime Warranty: The structural design of the steps with engineered supports and high-impact weatherable materials allows for a lifetime manufacturer's warranty.
Vinyl Liner | Hampton
Seaglass Liner
Explore Our Most Popular Molded Steps Styles
Vinyl-Over and Molded Pool Steps FAQs
Yes, pool steps can be added to any inground pool with a liner. There are several types of inground swimming pool stairs to choose from, such as drop-in steps and built-in steps. Swimming pool stairs can be constructed from a wide range of materials, such as fiberglass, steel, and polymer, which each have unique pros and cons. A pool professional can help you make a decision that fits your needs, your budget, and your sense of style
If you already have a vinyl liner pool, the best time to add steps to an existing pool is when you're replacing a liner. Your pool professional can work with you to find a style of steps that can work well with your design, and add steps before installing your replacement liner. Steps can be a great way to incorporate a bench or seating, as well as create easier access for those with limited mobility as opposed to climbing up and down a pool ladder. If seniors and small children will be using your pool, steps can provide you with a safer way for them to get in and out of the pool.
Pool stairs can range in price depending on the design and style you're looking for. If you have a specific idea in mind, use our pool estimator tool to get a rough idea of the associated costs. To get an even more accurate estimate, reach out to a Latham independent pool dealer.
Drop-in steps are available in a wide range of styles, colors, and sizes. A popular example is the wedding cake style pool steps, which takes its nickname from its layered or tiered appearance. Drop-in stairs can be added to existing pools to enhance the look and functionality.
Vinyl liner pools (sometimes referred to as package pools) are popular because they're customizable, easy to install, durable and affordable. They're designed so that homeowners can work with pool builders to choose the shape, size, and features to create the pool of their dreams. Drop-in steps are just one more element that allows you to take your customization one step (pardon the pun) further. These steps can be "dropped" into your pool in the appropriate area within the perimeter of your pool. From there, a new vinyl liner can be laid over the top of them, creating a seamless effect.
When comparing vinyl-over vs. molded steps, both are prefabricated, but depending on the design of your pool, one may be a better option than the other. If you'd prefer your steps to sit outside the perimeter of your pool, molded steps may be your preference. However, if you want your stairs to fit within the perimeter of your pool, drop-in vinyl-over stairs may be your design of choice. design, drop-in vinyl pool liner over steps are the best option.
In either case, pool steps can help you to reap the benefits of a well-designed pool, offering you ease of access and – in some cases – clever features for entertaining or maximizing swimming space.
Helpful Content
Not sure where to get started? We've got you covered. Check out our amazing library of resources, inspiration and tools to help you with your pool project.