Seeing is believing…
We have developed a number of applications designed to make the buying journey easier and more relevant for you. Latham's enhanced visualization and budget preparation tools help you build your dream pool and transform your backyard into the ultimate sanctuary.
Please take a look at our toolkit and Visualize your new pool.
---
Jump to the Apps: AR Visualizer | Liner Visualizer | Cost Estimator | Fiberglass Color & Tile Selector
Applications
AR Pool Visualizer Application
Bring your dream backyard to life! You can see a Latham pool right in your own backyard with the Latham Pool Visualizer App, which features our most popular fiberglass pool models in a n assortment of colors.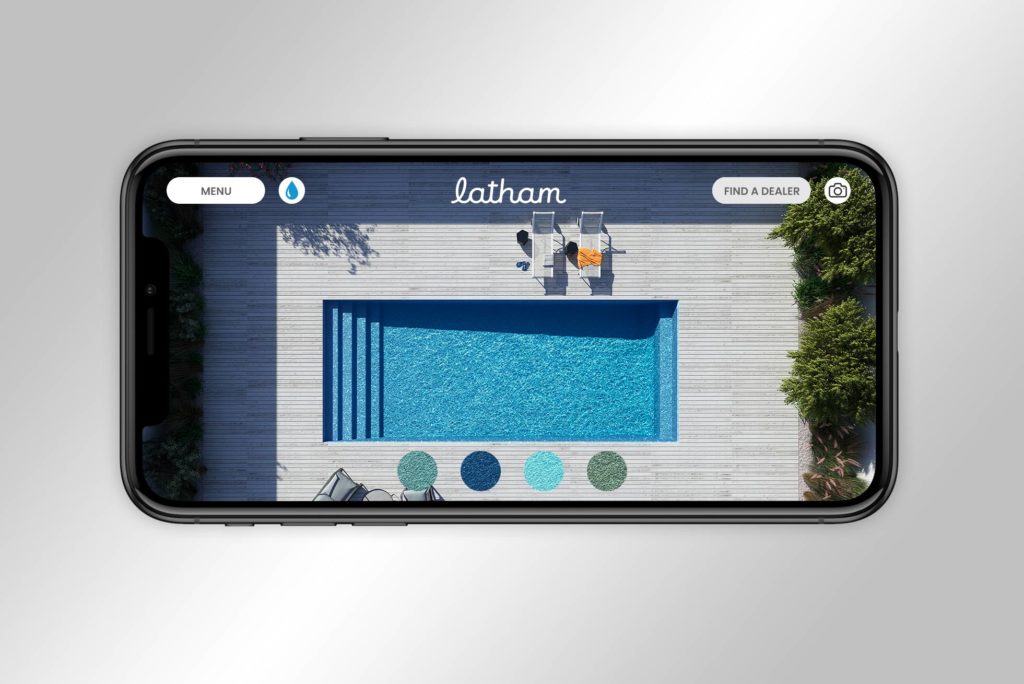 Applications
Latham Liner Visualizer Tool
The Latham Liner Visualizer makes the liner selection process easier by making it possible for you to see a variety of patterns applied to a pool similar to your own. You can select three different styles of homes, choose from three popular swimming pool designs and apply the pattern of your choice to visualize the look and feel of your pool.
Pool Cost Estimator
To get an idea of what the pool of your dreams may cost, check out the Latham pool cost estimator. Select your pool style and the accessories that matter most to you to get an estimate of what you can expect to spend.
While you may want to save for a pool, we make financing easy. Learn more about Latham's financing options today.
Applications
Fiberglass Color & Tile Selector
Along with the pool shape and water features, choosing a color for your fiberglass pool is an enjoyable way to make your pool a stunning expression of your personal aesthetic. From cool blues to warm sand tones, pearlescent to prismatic, there's a pool color and style for every home. Turn your backyard into a crystal clear Caribbean sea with one color style or an elegant Greek revival aquatic enclave with another. While most customers opt for a shade of blue (dark, aqua, royal, or light are consistent favorites), there's no limit to what you can achieve with so many color options for fiberglass pools!
Making your backyard dreams come true is more affordable than you think!
Use a Monthly Payment Calculator from one of our financing partners 'Lyon Financial' to find your estimated monthly payment.