The addition of a brand new pool is an exciting adventure and a great way to create a vacation oasis in your own backyard. The exact cost of a vinyl pool will vary based on your unique vision for your ideal pool, which can influence factors like the size, shape, liner type and other add-ons and features.
In this guide, we'll help you understand all the options and considerations that go into planning so you can turn your vinyl liner pool dreams into reality.
Cost Considerations for Your Vinyl Liner Pool Experience
There are many considerations that can impact the cost of your vinyl pool:
Design and Installation: Design choices like size and shape can have a significant impact on your pool costs. Larger pools, such as a 20' X 40' (800-square foot) pool, will cost more than smaller pools due to a more complex installation process. The liner pattern does not factor as much into the price, while still a vital part of the design. Latham vinyl liners come in thicknesses of 20-27 mils, and a variety of patterns and styles
Backyard Requirements: Yard preparation is key when considering your budget for your dream inground swimming pool. How level is your yard? Do you need to take down any trees? Potential pool buyers should consider these factors when budgeting for a dream pool. Also consider municipalities like electrical lines, drainage or sprinkler systems.
Customizations: You don't need to go with all of the standard options. Upgrade your pool stairs, or the coping and landscaping to make your pool uniquely yours. You may also want to add heating, lighting and water features. If ambient lighting for a nighttime swim or warmer water temperatures appeal to you, they can be well-worth the splurge.
Entry Systems and other Add-Ons: It's always good to talk to your local builder about the primary use for your pool. Your dealer can help you choose from different entry systems or add-ons like tanning ledges or vinyl-over benches. The best part of a vinyl liner pool is the endless options available to make your pool perfect for your backyard lifestyle.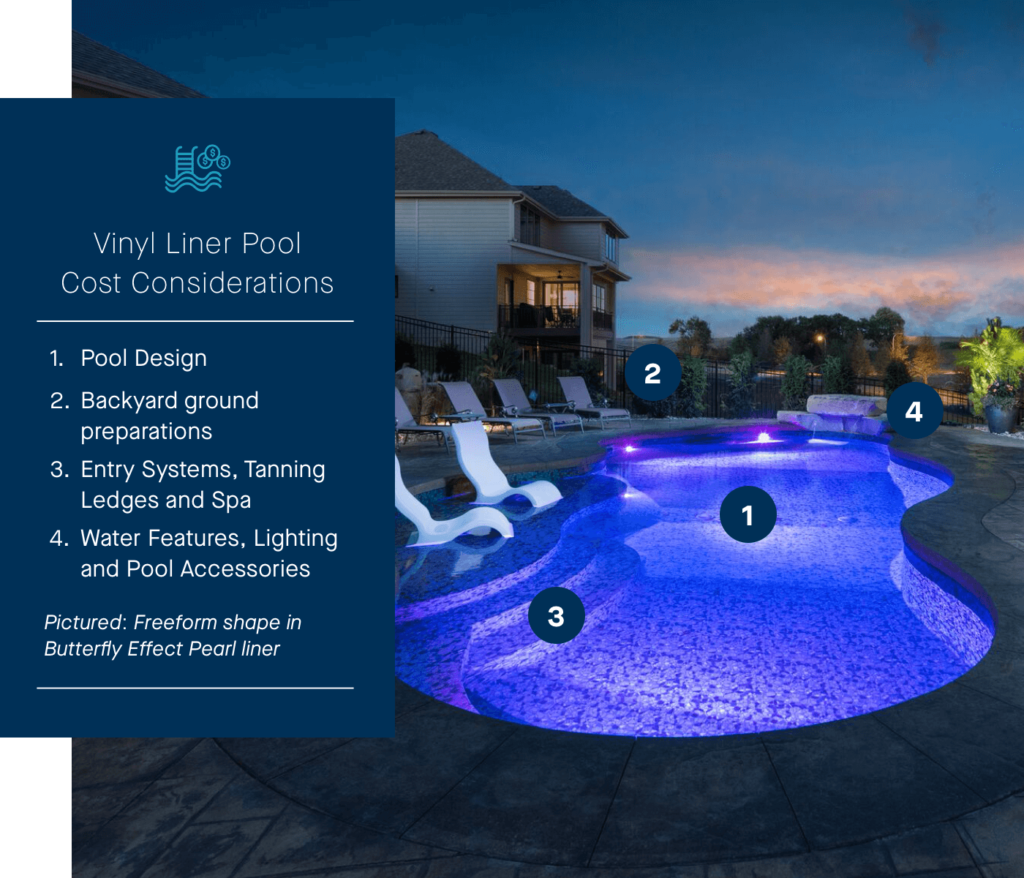 Vinyl Liner Pools Cost
Inground vinyl pools are a versatile and highly-customizable option. Vinyl pools give you the freedom to build the pool that's right for you. Start with the shape and base, then choose from a number of upgrades and customizations. Vinyl liner pools can range from simple, clean designs starting around $50,000 up to $150,000 for the large, feature-rich pool of your dreams.
Backyard with vinyl liner inground pool: $50,000 – $150,000
Note: This range is a basic estimate, exact pricing will vary.
How Much Does it Cost to Maintain a Vinyl Liner Pool?
Compared with other pool types, like concrete, vinyl pools are relatively low maintenance. Unlike concrete pools which can require ongoing, time-consuming maintenance, vinyl pools require minimal upkeep. While regular maintenance may not influence the initial cost of your pool, keeping the water balanced can increase the longevity of your vinyl pool liner and the enjoyment of your pool.
Click the arrows below to explore the various costs to maintain a vinyl liner pool which include: 1) Longevity 2) Maintenance 3) Warranty.
Maintaining a Vinyl Pool: 1/3
Long Lasting and Customizable
Vinyl pools are an excellent investment, because they're long lasting and highly customizable. Unlike concrete pools, the customization doesn't end when you install your pool. Vinyl liners have an average life expectancy of about 10 years, providing you with the opportunity to give your pool a new look and feel each time you replace the liner. Want to change the entire vibe of your backyard? Simply swap your pool liner!
Maintaining a Vinyl Pool: 2/3
Easy to Clean and Maintain
With every large investment, you'll want to protect it and get the most out it. When you think of pool maintenance and the associated costs, think about how little it is when compared to the priceless memories you will enjoy for as long as you own that home. Vinyl pools have a lower initial costs, so you'll end up investing a little bit on a regular basis to ensure the longevity of your pool. This upkeep can prevent more costly repairs down the line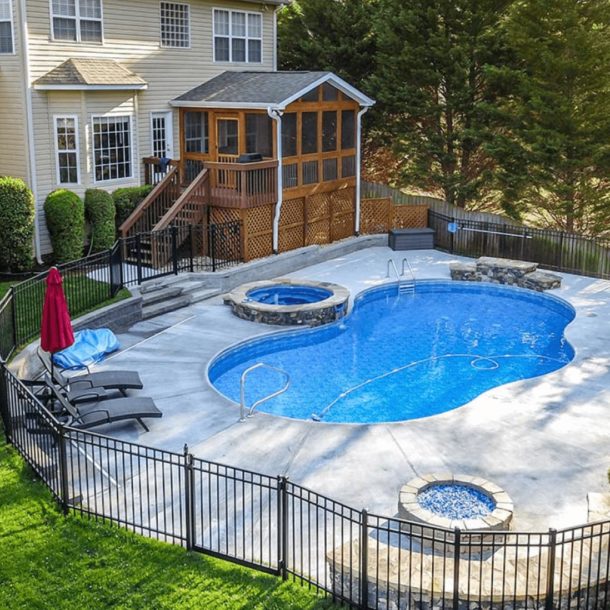 Maintaining a Vinyl Pool: 3/3
Check Your Warranty
Some maintenance costs can be offset by a pool warranty and give you additional peace of mind. Pool warranties typically cover equipment issues, like pumps, filters and chlorinators for up to a year and assume proper maintenance. If included, coverage for pool liners themselves is often limited to issues around the installation vs. normal wear and tear. Warranties can vary, so buyers should discuss specific warranty questions and what is covered with their pool dealer.
Latham's Comprehensive Warranty
You want your vinyl pool to last for years so it's definitely worth it to get a warranty on your pool. When looking at pool costs, make sure to determine whether a warranty is included and what it covers. The terms of your pool warranty can influence the life of your pool and offset costly repairs and maintenance fees.
At Latham, we stand  by our products and our customers' satisfaction is important to us. Because of this, all of our vinyl pools and vinyl liners are backed by comprehensive industry-leading warranties. Learn more about our warranties and terms and conditions.
HELPFUL TOOLS
Pool Cost Estimator
Use our pricing estimator to get an estimate on your ideal vinyl liner pool. Customize your design to gauge pricing for different pool sizes, shapes, materials and features.
A little planning can help you build the pool you've always dreamed of and create a welcome addition to your backyard for years to come. Nothing brings friends and families—parents, kids and grandkids—together quite like a pool. Bring the vacation to your own backyard and soak in the compliments on a beautiful new pool.
Interested in financing the pool of your dreams? We make it easy! Check out our financing page to learn how you can turn your dream into a reality.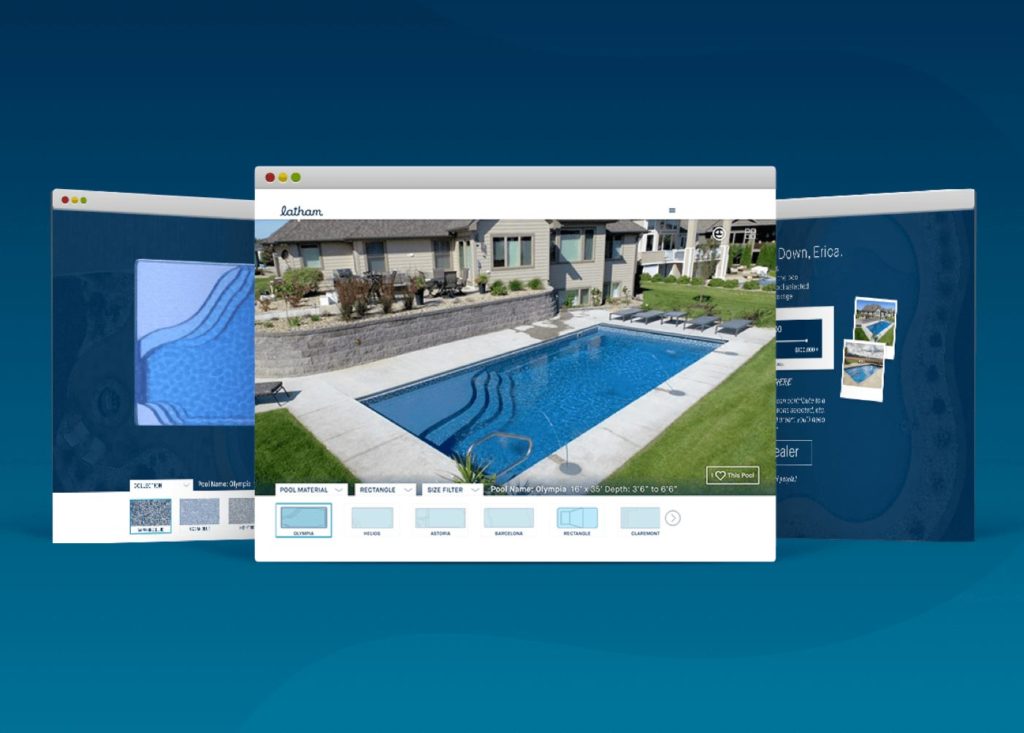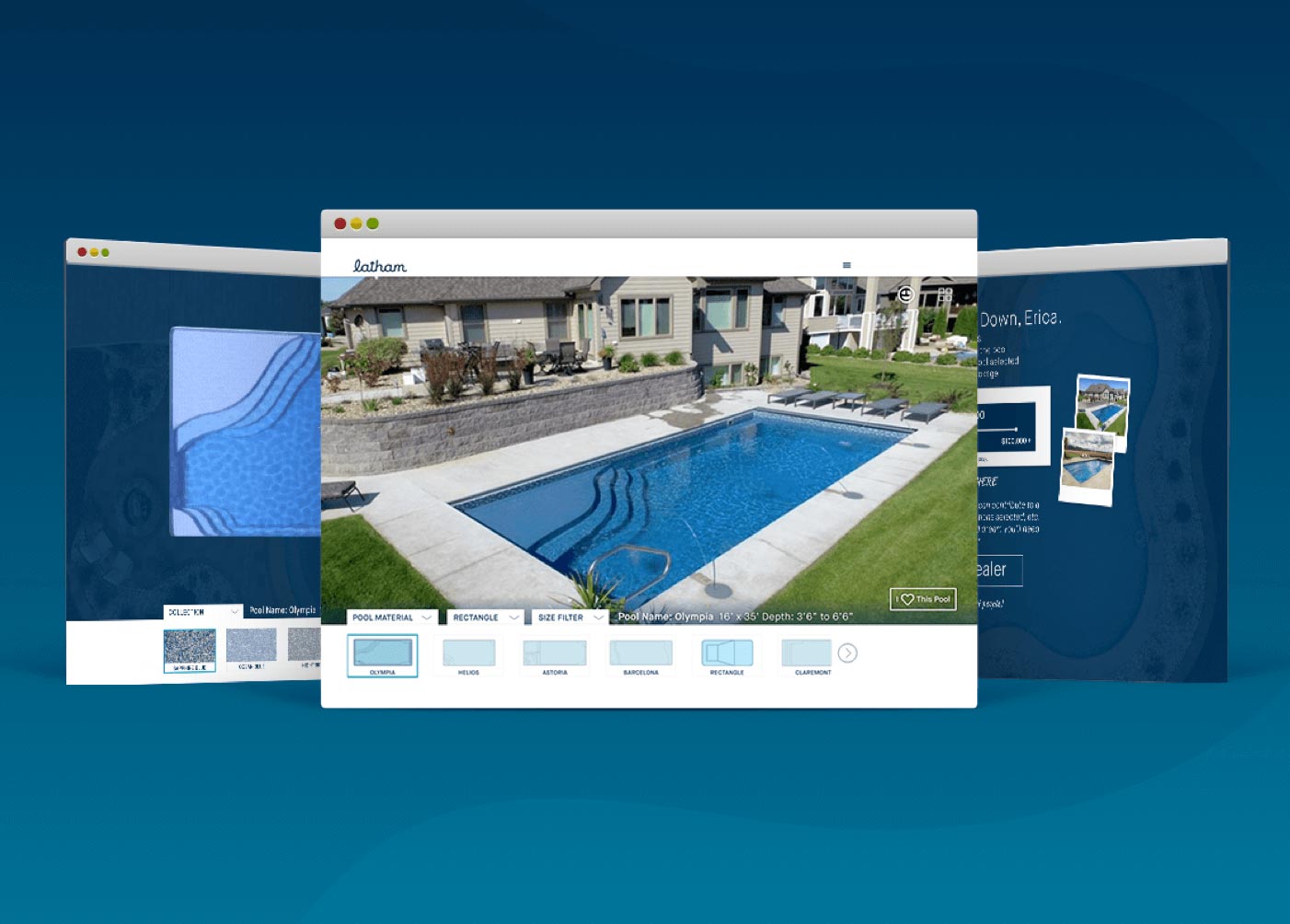 Get a Vinyl Pool Quote From a Certified Latham Independent Builder
Now that you understand the average cost of a vinyl pool, we want to help you get a custom quote so you can start planning the pool of your dreams. Take the next step in your pool-planning journey: Contact a Builder to get a more detailed price quote.
Not quite ready for a quote? Design your dream pool with our Liner Visualizer Tool.
Explore Other Swimming Pool Cost Guides