You've got your custom in-ground pool in your mind's eye, and it's gorgeous. It's a work of art that could easily stand alone as a fabulous focal point for your backyard. But as long as you're going to invest in a luxury swimming pool, why not go all the way and enhance the beauty of the surrounding area with an amazing deck? Factoring a deck into your pool plans can save you both time and money as opposed to deciding you may want to add a deck after your inground pool has been installed. 
Unlike above-ground pools that don't require decking, typically, inground pools require three feet of decking around their perimeter. Planning room in your budget for a deck, as well as considering its aesthetic value as to how it will frame your pool in an attractive way can go a long way towards making the crown jewel of your backyard shine.
Read on for pool deck ideas to enhance the natural beauty of your pool and backyard.
1. Eye-Catching Shapes and Unique Paver Design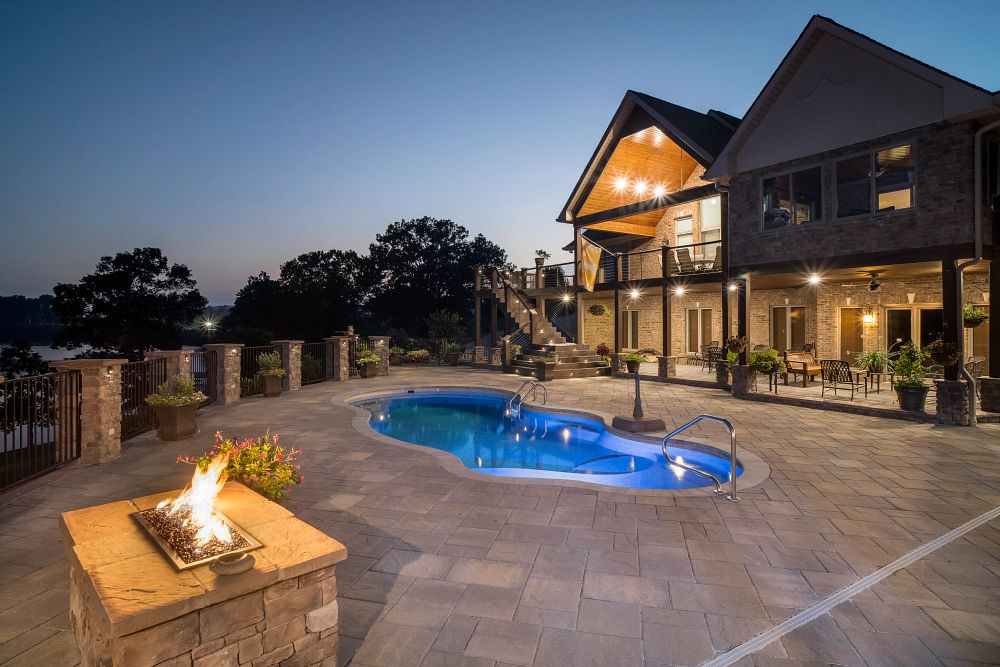 The best part of a paver design is its flexibility. As seen here, these classic stone pavers are a series of rectangles of different sizes, which gives this deck a more modern look. The oval-shaped pool itself, meanwhile, is classic in design, with elegant pool coping that frames its shape. This sparkling fiberglass pool is carved into a broader expanse of pavers that lends the effect of a discovered oasis, with the pool as the focal point. The contrast between the tranquil stone elements of the pavers and the crystalline brilliance of the pool play off of one another to create harmony.
2. Classic Wood
Here, natural wood decking provides an almost tonal effect, in a shade of blue-gray that complements the blue hue of the pool. The kidney-shaped Valencia fiberglass pool invites you for a cool dip, with its soft curves and clean lines along the pool's edges. The deck design can also be accomplished using other varieties of wood or even a composite material—though, natural wood can go a long way toward waterproofing a pool deck, thanks to sealants and stains.
3. Weathered Wood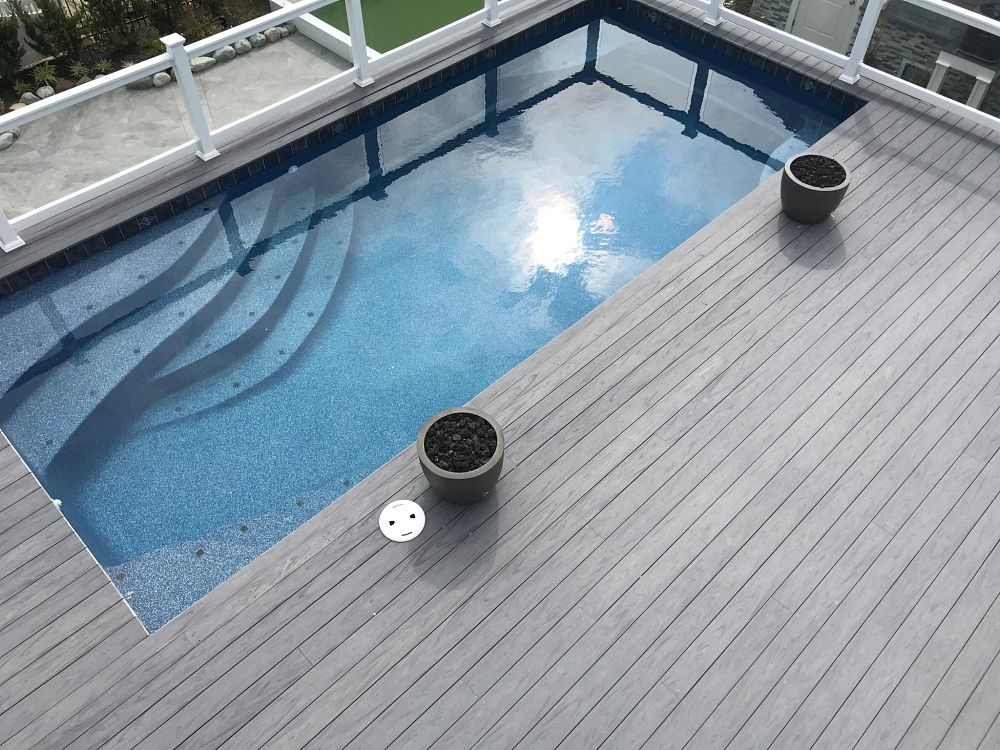 This simple gray decking is the perfect complement for a regctangular-shaped fiberglass pool. The rustic planks and minimal coping  come together in a style that is the definition of "simple beauty."
Any fiberglass pool can work with this space and style of decking. Better yet, these wooden planks aren't your only option to recreate this minimalist deck. Mahogany, for example, would add a forest-inspired feel while retaining the space's simplicity – and a darker, warmer-toned wood (or composite material!) can provide a stronger contrast against cool blue waters.
4. Creative Shapes and Contrast
This relaxing scene showcases how well light pavers—in this case, a natural gray stone—complement flowerbeds, shrubbery and plantlife. The clean, graceful stone allows the background greenery to pop, and seamlessly transitions into the cool blue of the vinyl liner pool. A lighter wood with the right stain, a soft-colored tile or even the right composite could inspire a similar sense of paradise for a pool deck.
5. The Natural Look
Set your pool against an abundance of greenery and you've got a winning combination. While the gray stonework does an excellent job of contrasting with the surrounding nature, it's only one of several options. Add composite decking or wood planks from redwood or cedar, which have the added benefit of being resilient against nature's worst byproduct: insects. You can also opt for a simple-and-clean porcelain tile that, in white, will bring your spa-day fantasies to life in your own backyard.
6. Traditional pool with a Modern Touch
The integrated water features and fire bowls add a modern feel to this traditional rectangular pool. The deck features stone-look coping with a rich pattern that mixes light and dark tones and meshes well with stone paver decking. This gives your pool a bright, cheery feel during the day that gives way to a warmer, more intimate feel at night.
This same design concept could be accomplished using other materials, such as a teak wood with a balanced brown. Concrete could be an attractive candidate, as it comes in a variety of colors (not just gray!), such as brown, beige or even multiple colors blended together.
7. Dark Tone Drama
The slate gray stone decking creates a dramatic look. Darker blue coping provides a striking ridge that highlights the unique clover shape of this vinyl pool. Meanwhile, rectangular pavers are laid at an angle to form a diamond-shaped pattern, creating a path that leads to the pool. The larger stone pavers form a contrast against the smaller stone pavers that form decking around the pool to create a tonal effect that still maintains contrast due to the different shapes. And who wouldn't love to hop out of the pool after a cool evening swim and get cozy by the fire?
8. Simply Shady
Accenting this stormy stone tile is a built-in wood bench that also serves as a sturdy base for an elevated deck. In hot, arid areas with less natural shade, like Nevada or Arizona, an elevated deck can provide your pool and surrounding decking with shelter from the blazing sun. Pool and decking professionals in your area will know exactly how to custom-outfit your space for pool sizing, materials, overflow sizing, and more. 
Those with a designer's eye will also want to pay attention to the style of their pool cover. Pictured is a deck mount bench with an automatic pool cover, which blends with the wood structure and adds earthy tones while offering everyday protection from accidents.
9. The Backyard Getaway
This freeform fiberglass pool is the breathtaking centerpiece of this relaxing backyard. Surrounding the free-form pool is a sandy brown expanse of concrete decking that cleverly curves to separate the pool and its adjoining spillover spa. For a similar aesthetic, try mosaic tiling or pavers. The concept could even take shape using a lighter wood, complementing the surrounding greenery.
10. Subtle and Classic
The subdued color palette for the materials around this in-ground pool make its tranquil blue color all the more vivid. The concrete deck is surrounded by a cleverly placed pergola and poolhouse, with a garden of trees and shrubbery flanking a classic vinyl liner rectangular pool. The concrete decking is functional without being fussy. As an added bonus, concrete is a great decking material for helping to prevent slip-and-falls.
For a similar aesthetic effect, try using an all-white porcelain material.
11. Add Stone for a Natural and Stunning Aesthetic
For a pool that's stone-cold stunning, stone pavers and decking can create an elevated, back-to-nature look in your backyard. Beautiful and versatile, stone decking comes in a variety of colors – from single shades of gray or tan – to a beautiful marbled styles that swirl different hues or color families together for a distinctly different look.
This gorgeous kidney-shaped pool is surrounded by marbled travertine limestone decking and coping that contrasts its inviting blue waters, and plays off of the subtle vinyl liner pattern. Beyond its natural beauty, an added benefit of this material is that unpolished travertine has non-slip properties, making it a great choice for pool decking.
12. Smart Stairs
If you want your decking to incorporate stairs, think about how they'll work with the natural lines or contours of your pool to frame it in its best light. Do you want a multi-level deck with climbing or winding stairs to play off the curves of a luxurious freeform pool? This can be ideal for smaller yards where your pool is the center of your backyard, but a second-level deck allows you space for grilling or relaxing while looking down at your beautiful pool.
Another option is a simple low-to-the-ground deck that allows for easy access in and out of your pool. This lowered deck with simple stairs mirrors this rectangular pool's notches with stairs. This makes it easier to access the pool, which is framed by natural tan coping and stone edging.
13. Pebble Beach
Adding pretty pebbles as a border around your pool's coping can be a subtle way to add visual interest to a simple decking design. While you can opt for a tonal effect that marries stone pavers, coping, and pebbles all within the same color family – like this gorgeous gray deck shown here, you can also go bold with pebbles in contrasting colors, or look to a mosaic-style effect with pebbles in a rainbow of hues.
14. Keep Weeds at Bay with a Rocky Perimeter
Some folks love lush greenery surrounding a pool. Others may have a "brown thumb" or just don't want the responsibility of maintaining a well-manicured lawn, shrubs and garden. If you fall into that category (and we won't judge you if you do!), adding rocks, stones and pebbles around your decking or pavers can provide you with an attractive way to highlight your pool while inhibiting the overgrowth of weeds.
Not only can this practical alternative reduce the amount of time spent tending to any lawn area around your pool, but it can also minimize dirt or stray grass blades inadvertently tracked into your pool. This can help reduce your skimming and pool vacuuming chores, too!
15. Create Drama with Boulders
If your ideal landscaping around your pool leans more towards "rock garden" than "flower garden," adding rocks and stones of varying sizes can create added visual interest.  As an added bonus, large boulders can also double as a place to sit and dry off after a dip in the pool.
This small rectangular shaped pool looks grand and dramatic with the addition of several large boulders concentrated at the far end of the deck, leaving the rest of the perimeter unobstructed. While large slabs of natural stone comprise its decking, a few well-placed shrubs and boulders of varying sizes give this small backyard pool the feel of a posh resort.
16. Add a Fire Pit to Warm Up after Night Time Swimming
In recent years, fire pits have become a "hot" outdoor trend – pun intended. Firepits can be an ideal place to dry off and warm up when the sun goes down, but you still want to keep the pool vibes flowing. It can also be a great place to congregate with friends and family when temperatures turn brisk in early fall.
Fire pits can be a great addition to low-to-the-ground stone decks. Safety is key to enjoying your firepit and natural stone can be a fire-proof option. In this instance, multi-colored stone pavers in shades of gray and tan provide a foundation for a gorgeous freeform pool and an adjoining gazebo. The firepit bowl is surrounded by an attractive stone wall that incorporates the same materials and hues as the pavers for a wholly harmonized look.
17. Use Granite for Enhanced Luxury
Granite is one of the hardest and most durable natural stones available. Coupled with the fact that it repels water, it's an in-demand material for pool decking. Here, granite works with concrete decking in soothing cool tones of gray to surround this inviting rectangular fiberglass pool. The look offers a feel of simplicity and luxury, with an uncluttered look that offsets the pool's clean lines, allowing it to take center stage.
18. Use Contrasting Colors for Visual Appeal
Pool coping and decking can make a world of difference to highlight the beauty of your pool itself. Whether you chose a vinyl liner pool or a breathtaking fiberglass pool with Crystite color technology, the right coping surrounding your pool can make the colors pop, setting it apart from decking and forming an attractive frame. In this instance, bright white coping provides a stark contrast to the tonal gray pavers-style decking.
Although this pool is covered with a slate gray autocover, white coping provides contrast that lends visual interest, even when this pool is not in use. Once the cover is pulled back, get ready for its shimmering blue or emerald waters to dazzle, adding even greater contrast and color!
19. Mix Up Materials
Mixing materials is another way to create visual interest, balancing different textures and colors for a bespoke look to your pool. This rectangular Roman pool takes on more of a modern character thanks to smooth gray concrete coping that forms a sleek, geometric border and contrasts with muted brick pavers that serve as decking.
20. Add a Pop of Color
While natural shades of tan and gray are often popular choices for decking, owing to the minimalist aesthetic trend that's been popular in recent years, adding a bold pop of color can set you apart from the pool pack. Dramatic colors, like this vibrant brick red, can add more visual interest and help your pool stand out.
To find the right color to help make your pool pop, look to surrounding elements like your roof, shudders or home trim. For example, this brick red pulls from the same color family as the tiled roof above the pool. A thin strip of bright white coping around the deep blue pool liner provides just enough contrast to keep these two striking colors separated, lending added polish. (The bright yellow rubber duckie floating in the pool also seems to approve,  rounding out the red-blue-and-yellow trifecta of primary colors!)
21. The Grass Is Always Greener
While you will need a mandatory three feet of decking surrounding your pool, it doesn't mean that your entire yard will require decking or pavers. Many homeowners opt for natural grass – or even turf. This is ideal for homeowners who may want to devote part of their yard to a vegetable garden or colorful flower beds.
22.  Stamped Concrete Gets the Stamp of Approval
Stamped concrete decking is an affordable pool decking option that not only looks great, but gives you the ability to add interesting tonal patterns to your decking to beautifully offset your pool. As opposed to cutting and laying stone pavers by hand, stamped concrete allows you to add interesting patterns that mimic the look of pavers, cobblestone, or can even add eye-catching geometric shapes to the area surrounding your deck. Additionally, stamped concrete gives you a variety of color options that work to enhance the look of your pool and tie it to your surroundings.
Endless Pool Decking Options
Of course, these are just some of the great ways that a pool and deck can complement one another. The point of this short list of suggestions is simply to get the creative juices flowing as you install or upgrade your pool and/or deck. Give it some thought and then go transform that space into something special.
After compiling a list of wants, needs, and dreams, contact a builder to lay the foundation for your future swimming pool deck.