Automatic pool covers are easy to use and provide an added layer of safety and protection to your pool. With the push of a button, you can slide your retractable pool cover on and off your pool to keep loved ones out of harm's way. Besides the safety benefits, a Coverstar automatic pool cover can also keep your pool looking as brilliant and sparkling as the day it was first installed in your backyard.
The price range for a Coverstar autocover can vary based on your overall pool design, but the benefits will give you back more time to enjoy your backyard oasis with friends and family.
The Benefits of a Pool Safety Cover are Priceless
The peace of mind that your loved ones are safe is worth more than even the most expensive pool cover, but Coverstar automatic safety covers also offer cost-saving benefits for pool owners.
By the numbers, an automatic pool cover offers the following savings and maintenance benefits:
Up to 90% reduction in water evaporation
Up to 70% reduction in pool heating costs
Up to 50% reduction in electricity costs
Up to 70% reduction in chemical use
A safety cover may seem like a significant investment, but it's a sound investment in the safety and longevity of your pool.
Automatic Pool Cover Price
The price range for an autocover can vary based on your overall pool design and the customizations you choose. An automatic safety cover can start as low as $10,000 for a small, aftermarket deck install or a basic under track setup. For a larger pool with more complex features, a safety cover can cost upwards of $20,000.
Automatic pool cover: $10,000 – $20,000
Note: This range is a basic estimate, exact pricing will vary.
With endless possibilities to choose from, additional custom features may increase the cost of an automatic pool cover above $20,000.
Automatic Pool Cover Cost Factors
Regardless of your budget or the vision you have for your dream pool, you have a variety of options to choose from to customize an automatic pool cover to complement your pool design. With these options in mind, the end result will be a pool cover that not only looks good, but enhances the safety and enjoyability of your beautiful new pool.
Click the arrows below to explore the various automatic pool cover factors which include: 1) Materials 2) Track Options 3) Pool Shape Features.
Learn More About Automatic Pool Cover Cost Factors
The price of your autocover can vary based on the materials. The fabric and the drive mechanism that allows the pool cover to open and close can affect the cost. We offer drive mechanisms in stainless steel or marine-grade aluminum.
We also offer various models to allow users to choose the best automatic safety cover for their individual needs.
Our Coverstar Eclipse autocover includes a full stainless steel mechanism. This top-of-the-line model is twice the size and strength of the competition.
The CS3000 includes marine-grade, anodized aluminum brackets and rope reel and stainless steel pulleys. The CS3000 withstands the test of time and is one of the most reliable autocovers you can find.
There are various track options that can influence retractable pool cover prices:
Undertrack System: An undertrack system is embedded in the pool wall or mounted to the bottom side of the pool coping. This option offers a clean aesthetic, as the track remains virtually invisible.

An undertrack system is ideal for a rectangle-shaped pool, but can also be used with free form pool shapes, using a design convention known as "pool-in-pool." This type of undertrack is more expensive to install in free form pools and also costs more than many top track options.
Top Track System: If you have a freeform pool, you may want to install a top-track system under an aluminum lid or mounted to the deck surface.
Recessed Track System: A recessed track system is embedded in the pool deck, and something pool owners may want to consider during pool construction. This track system will sit flush with your pool deck.

Pool owners often wonder if an automatic safety cover works with pool shapes besides the classic rectangle shape. Thanks to the wide range of Coverstar models and options, automatic pool covers can work with most pool shapes and sizes.
The price of your cover can be affected by the shape and design of your pool:
Lower Prices: If you start with a basic rectangle shape and aluminum pool cover lid, you will usually start on the lower end of the price range.
Higher Prices: Unique pool shapes or pool-surround features such as jumping rocks, beach entry or an infinity edge can require additional customization, which can cause an increase in price.

Automatic safety covers require professional installation and a licensed electrician to set everything up correctly. A qualified professional can help you determine switch placement and electrical configurations. This will also allow you to determine if you already have the proper setup to incorporate an autocover or if you will need to install any additional wiring or power sources.
If you already own a pool and want to add an automatic safety cover, good news, this is definitely possible! Make sure to speak to a qualified Coverstar dealer to customize the cover for your particular pool shape and size. They will work with you to find the right autocover system and ensure it's installed correctly. You'll also need to enlist the help of a licensed electrician to make sure your autocover is properly wired.
If you're in the market to upgrade or replace an existing pool cover, you may be wondering how much this will cost. Replacement autocovers can start around $2,000, but this can vary based on size or shape, travel charges and any additional repairs to the track system to restore functionality.
Replacing the Fabric: Pool owners may need to replace pool cover fabric every five to eight years, but this depends on environmental factors. If you live in a cool climate with less direct sunlight, your pool cover fabric will last longer than in hot, dry places with more sun exposure.
Replacing the Parts: Pool owners may need to replace the moving parts of the autocover. Like the fabric, this can vary based on geographic location. Harsh weather conditions or excessive dust and debris can wear on moving parts, which leads to more frequent replacements.
Helpful Tools
Pool Cost Estimator
Use our pricing estimator to get a better idea of what an automatic pool cover might cost. Customize your design to see how different options will affect the overall price of your pool.
Interested in financing the pool of your dreams? Check out our financing page to learn how you can turn your dream into a reality.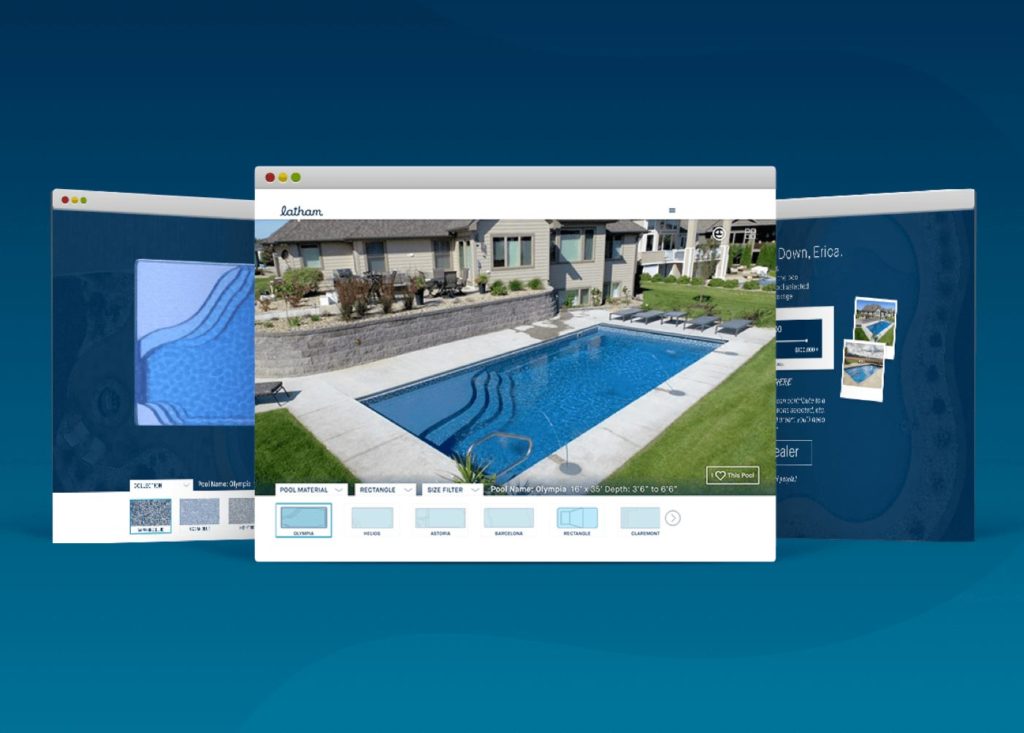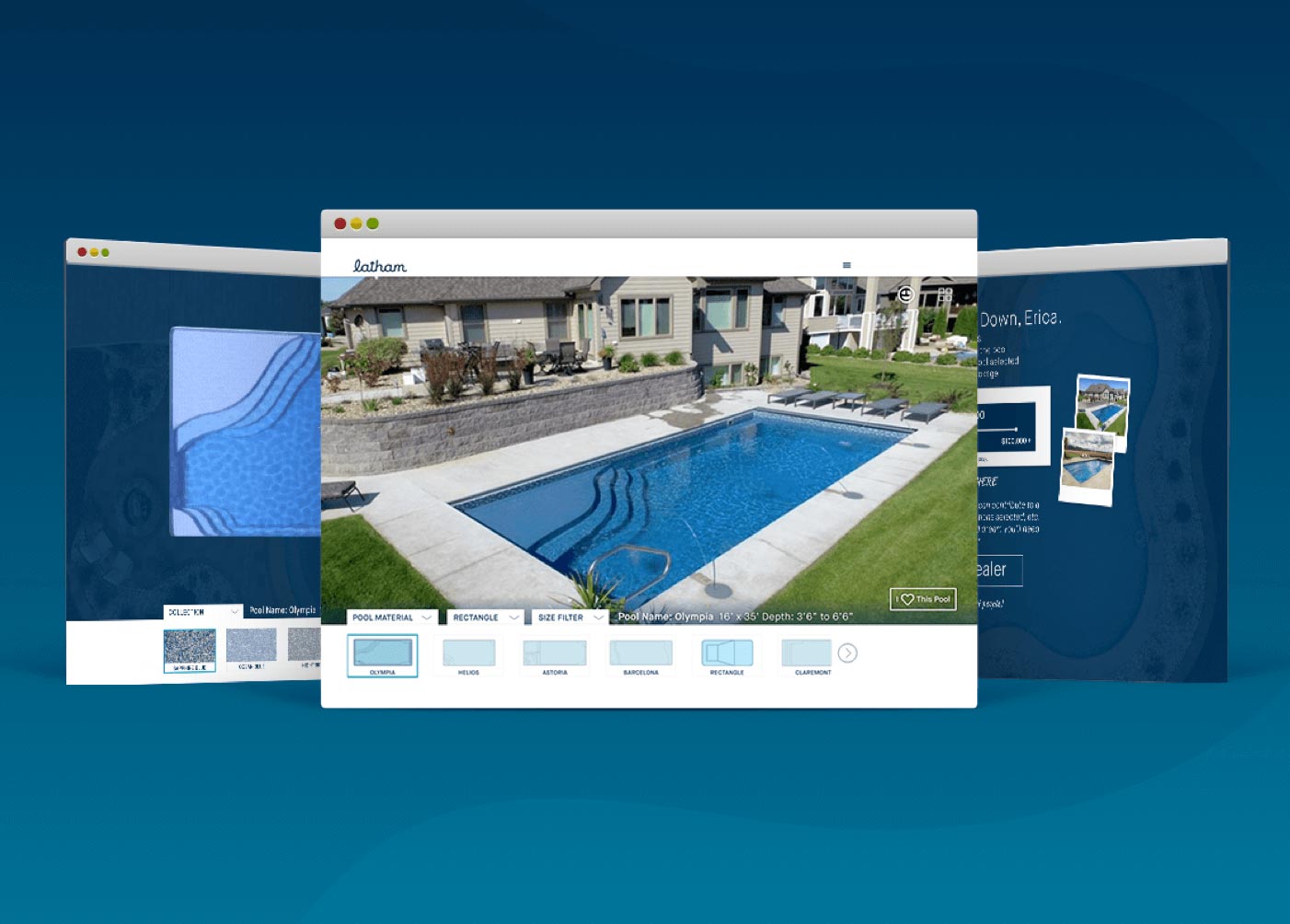 Get a Quote From a Knowledgeable Coverstar Value Added Reseller
Your uniquely designed automatic pool cover will enhance your backyard aesthetic, but will also provide time-saving benefits. Autocovers are easy to use, help reduce time and cost associated with pool maintenance and add an extra layer of safety.
Ready to get a more detailed price quote? Contact an official Latham value added reseller (VAR) today, and give you and your loves ones more time to spend splashing around in the pool of your dreams.
Explore Other Swimming Pool Cost Guides