Do you dream of owning a gorgeous pool, but think that your yard is too small or too narrow? In decades past, that might have been an obstacle — but thanks to modern construction methods, it's now possible to install dazzling pools in compact yards! Three of the most popular designs are often used interchangeably, and are known as "plunge pools," "dipping pools" and "cocktail pools." These pools are often better used for soaking up the sun rather than for any diving or laps, and each pool type has its own unique features that we'll explore and compare throughout this article.
No space? No problem. Read on to learn everything you need to know about plunge, dipping, and cocktail pools, helping you make the right decision about the best small pool for your needs.
We'll answer FAQs like:
What is a plunge pool, and how is a cocktail or dipping pool different?
What are the benefits of a vinyl or fiberglass plunge pool?
What are the minimum size requirements for a plunge pool?
How much does a plunge pool cost?
Why choose a plunge pool over a traditional swimming pool?
There's lots of information to cover, so — no pun intended — let's plunge right in!
What Are Plunge Pools?
Plunge pools are small, space-saving pools that typically measure 8 or 12 feet wide and anywhere from 12 to 24 feet long. They can be made from materials like fiberglass, concrete, or vinyl and may be installed as inground or above-ground pools, though most homeowners prefer inground designs.
Other small pools, such as cocktail and dipping pools, contain shallow water that makes them unsuitable for diving or vigorous exercise. By comparison, plunge pools are generally filled to a deeper level — anywhere from four to eight feet. Their increased depth makes plunge pools ideal for aquatic exercises and rehabilitation, especially when accessorized with water jets for a simulated "lap swimming" effect — in a fraction of the space!
Of course, plunge pools can also be used to simply relax and cool off. However, if your main goal is to lounge and soak up the sun, you may get more enjoyment out of a dipping pool or cocktail pool. Keep reading to learn why.
What is a Dipping Pool?
What does dipping pool mean? The terms "dipping pool" and "plunge pool" are often used interchangeably, which is slightly inaccurate. While both are compact pools ideal for small spaces, dipping pools tend to be shallower and may be heated, whereas plunge pools are generally unheated and contain deeper water. Due to their shallow depth, dipping pools are inappropriate for diving and are best suited to gentle activities like wading, cooling off, tanning, and relaxing.
What is a Cocktail Pool?
A cocktail pool combines the refreshment of a classic pool with the luxury of a spa, offering you the best of both worlds for a truly indulgent outdoor experience. These pools can be equipped with heated jets and comfortable bench seating, and are perfect for sipping a drink with your friends and neighbors. However, they are normally filled to a shallower depth than plunge pools, making them less than ideal for exercise.
What is a spool pool?
You may see cocktail pools referred to as "spools," which is simply a combination of the words "small" and "pool." Whether you prefer to call them spools or cocktail pools, these small pools can add big value to your home — not to mention provide hours of entertainment for your friends and family.
Wondering which small pool type to choose? We recommend opting for a cocktail pool if you're looking for one everyone in the family can wade or relax in, since dipping and cocktail pools are generally more shallow and allow for easier exit and entry for senior loved ones as well as a smaller depth for children.
What Is The Point Of A Plunge Pool?
What is a plunge pool used for, and why might you want to consider this option?
A plunge pool provides a space to lounge, wade, rejuvenate and cool off in the summer — without needing to spend nearly as much time or money on pool maintenance. Unless you're interested in hosting pool parties or need lots of space for your children to play, a plunge pool offers you all the fun and versatility of a conventional vinyl pool. Due to their comparatively low requirements for space and upkeep, spools and plunge pools are ideal for retirees, empty nesters, homeowners who are in the process of downsizing, and anyone else who wants to enjoy the benefits of a pool without the need for extensive maintenance.   
Plunge pools are also great for full-body submersion and water aerobics, especially if the pool is equipped with jets.
The Advantages of Smaller Pools
When it comes to swimming pools, bigger doesn't always mean better. On the contrary, there are many smart reasons to consider a plunge, dipping, or cocktail pool over a full-size model.
Here are a few of the advantages that small pools have to offer:
Small pools do not cost as much to construct or maintain as their full-sized counterparts 

Since small pools do not require as much power or need as many cleaning chemicals, they are better for the environment 

Smaller pools are easier to maintain and look after than large pools 

Plunge pools can fit on small lawns that won't accommodate full-size pools 

Perfect for aquatic therapy or lounging and relaxing 

Wide range of style and design options makes them highly customizable 

Leave more room for other lawn features like gardens, porches, and gazebos
From being easier to care for than full-size pools, to their tremendous range of custom design options and their compact dimensions that are ideal for small yards, plunge pools can offer a long list of benefits. Whether you're focused on saving space, saving money or saving the environment, a small pool can help you achieve all three goals.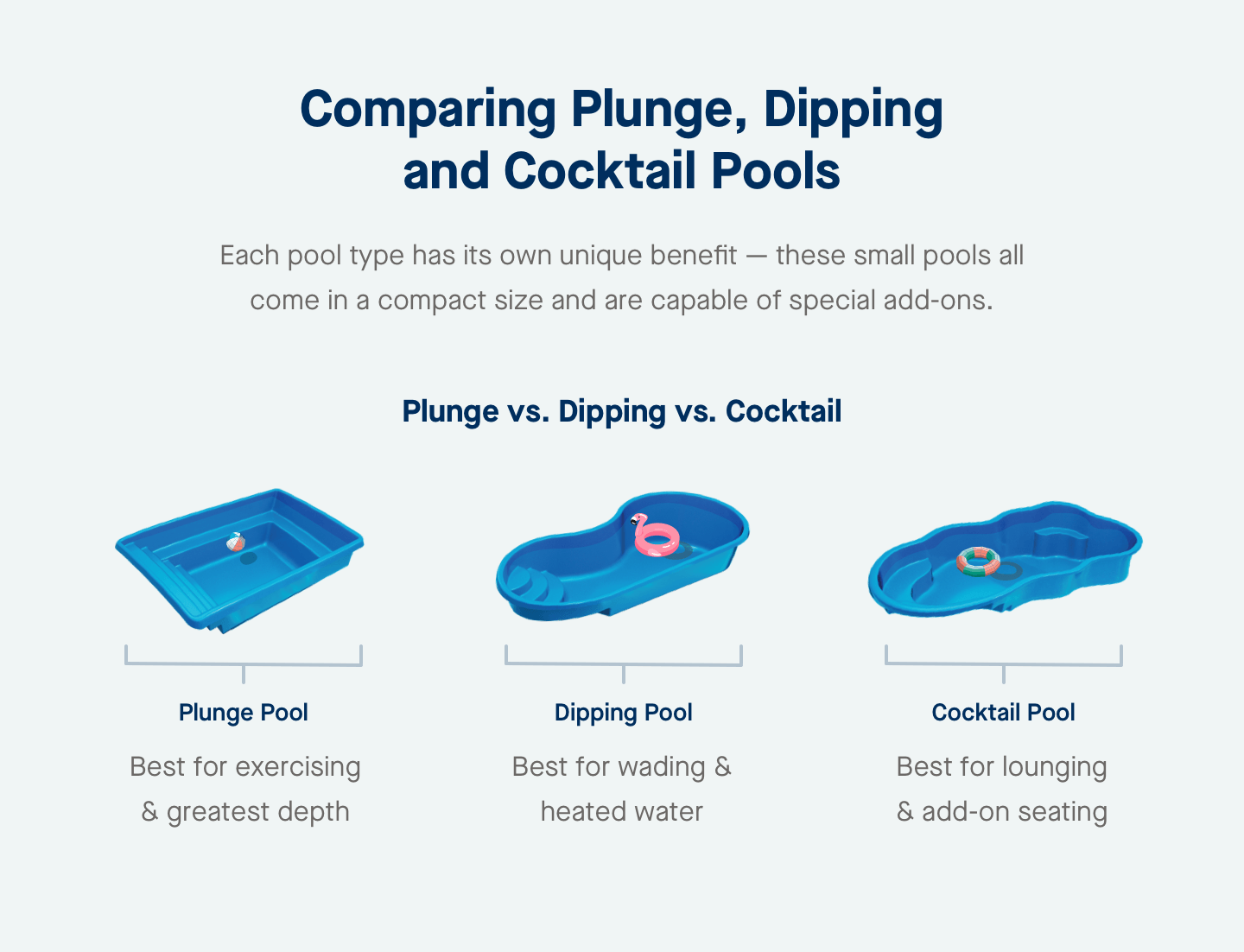 Commonly Asked Questions About Plunge Pools
In this section, we'll answer your most common questions about spools and plunge pools, including how much they typically cost, how much space they require and how deep they're normally filled. If you have a question that isn't answered below, just contact our friendly team of experts for help!
How Much Does A Plunge, Cocktail, or Dipping Pool Cost?
Due to their smaller size, plunge and cocktail pools are generally less costly than full-sized pools — not only in terms of the initial installation but also long-term maintenance over time. For example, a small pool does not require as much chlorine to treat the smaller volume of water, or need as much power for pumps, lights and robotic cleaners. From that perspective, a small pool is also healthier for the environment!
So how much does a small backyard plunge pool cost on average? While there are many factors that determine cost, inground swimming pools typically start around $35,000. Some small pools may cost more or less depending on pool type, material and size.
Of course, as with full-sized pools, additional features like spa jets or benches will increase the overall cost of your spool. For more information, please refer to our detailed pool pricing guide or contact an independent builder for assistance. 
How Deep Is A Plunge Pool?
Most plunge pools range in depth from 4 to 8 feet. It depends on factors like your soil composition, the design of your property, and of course, your personal preference! But how do you choose the right depth for your plunge pool?
One helpful way to start is to visualize yourself standing in waist-deep water. For most people, that translates to a depth somewhere between 3.5 to 4 feet, depending on your height. You may want waist-deep water, water that reaches closer to neck- or shoulder-level, or even water deep enough to be completely submerged in, depending on how you plan to use the pool. For example, if you plan to do aquatic therapy or exercise, you will likely need a deeper pool than someone who just wants to wade or sit and enjoy a beverage.
If you're looking for a deeper pool, it may be best to opt for a 48 inch wall system rather than the typical 42 inch wall. This can make a world of difference to an adult who wants to cool down without bending or relaxing on their knees. Overall, It is best to speak to a Latham independent builder to determine the perfect pool depth for your needs, from shallow dipping pools to deep plunge pools and everything in between! 
What Size Is A Plunge Pool?
One of the main advantages of the spool or plunge pool is its compact size, which allows it to fit comfortably in small yards where space is limited. While a number of sizes are available, one of the most common sizes for small pools is 10 feet by 16 feet (160 square feet), like the best-selling fiberglass Milan. By comparison, most full-size swimming pools measure closer to 16 by 38 feet (600 square feet).
What is the Smallest Size Possible for a Plunge Pool?
Vinyl pools come in a huge range of size options, which means most yards can accommodate a vinyl spool or plunge pool. Depending on your yard, preferred design and how you intend to use the pool, we generally recommend building no smaller than 2.5 meters in diameter (for round pools). For rectangular spools, we suggest minimum dimensions of 10 feet by 16 feet, like our popular Milan model above.
Remember, you don't need a small yard to enjoy a small pool! Even if your yard can accommodate a full-size swimming pool, you may prefer a plunge pool or cocktail pool in order to free up more space for a garden, patio, gazebo, porch or other outdoor features.
Is a Plunge Pool Worth It?
A full-sized pool can be a major commitment, especially in harsh climates where extra maintenance is needed to combat the elements. A spool or plunge pool offers nearly all of the same advantages, but with much lower operating costs and requirements for upkeep.
Unless you're specifically looking for lots of space to fit multiple swimmers, a small pool may be the best option to meet all your needs with minimum labor and expense.
Thinking a Plunge Pool is Right For You?
Think a small pool or spool might make a great addition to your lawn? Learn more about cocktail pools, dipping pools and plunge pools for small yards. Explore the features and specifications of our Milan model, or contact Latham today to discover other options.