This time of year many pools are in hibernation, covered and closed for the winter. But that doesn't mean out of sight, out of mind. Proper winter pool cover maintenance during the off-season will help keep your family and pool safe, prolong the life of your cover, and also make it easier to open your pool once spring has sprung. While we always recommend contacting a pool professional for any repairs or maintenance needs, we've put together a few winter pool cover care and maintenance tips to help you understand winter pool cover maintenance best practices.
How Do You Clean a Mesh Winter Pool Cover?
Again, we always recommend contacting a professional for any pool cover maintenance or repairs, outside of normal, routine maintenance. However, it's helpful to be aware of the necessary steps for ongoing cleaning and upkeep. The steps outlined below will help you keep your mesh winter pool cover in working order.
Before you clean your mesh winter pool cover, it's important to confirm which types of cleaning products should or shouldn't be used with your particular cover. You don't want to damage the fabric or materials by using harsh chemicals.  Contact Latham with any questions.
You can generally clean a mesh cover with a mild chlorine solution and a soft-bristled broom. Below, we'll go into more detail about how to remove debris and the elements like snow and ice from your pool cover.
Keep It Clear of Leaves and Debris
Your winter cover will keep leaves and twigs out of your pool, but you need to keep the debris and standing water resulting from melting snow and rain off of your cover. Covered pools located in heavily wooded areas are susceptible to the accumulation of leaves, needles and other debris that can inhibit water flow to and through the mesh drain panel or INVIS-A-DRAIN. It's very important to keep the drain clear of debris at all times. Water can be removed by placing a weighted pool cover pump in a suitable location on the cover. Cover pumps should be monitored when in use and are available through your cover dealer.
Use a leaf blower, a leaf net, or a soft-bristle pool brush to clear your cover of any debris. Those little twigs can poke holes in your cover. If this happens you need to patch in holes before they grow or risk replacing your cover early. Also make sure to remove any debris from under and around the straps and springs anchoring your cover.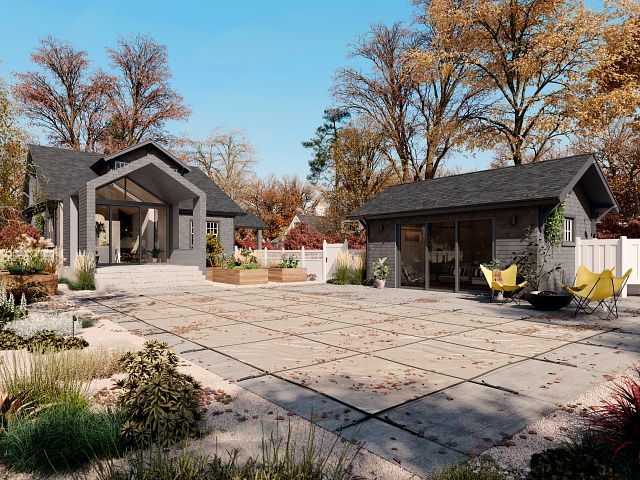 How to Get Water Off a Winter Pool Cover
If a large puddle of water accumulates, it should be removed immediately by directing it to the drain or by using a weighted cover pump. Always monitor your cover pump when in use as to not drain water from inside your swimming pool.
The cover straps should be readjusted to prevent a reoccurrence of water accumulation. Failure to perform this maintenance could result in stretching or damage to the other cover components. Drainage can be facilitated by slightly loosening the strap that runs through the drain areas while tightening the straps away from the drain. A small amount of puddling on your winter cover is normal and will evaporate in dry weather. If you have questions about these or any procedures, please contact your cover installer.
How to Get Snow off a Winter Pool Cover
Your solid or mesh winter pool cover will help to keep snow and ice out of your pool, but it's also important to keep snow from building up on the pool cover itself. If you live in an area that gets heavy snowfall during the winter, you don't have to remove snow from the mesh cover. A safety cover can accommodate accumulations of snow, and using a snow shovel or similar tool could damage the cover. Definitely do not try to melt snow either.
Large accumulations of snow should be carefully removed, taking precautions not to damage the cover. Be sure to contact your pool cover professional to determine what materials or devices are safe to use on your cover.
Do I Need to Shovel My Pool Cover?
No, you do not need to shovel your pool cover. In fact, you should avoid using a shovel as the sharp edges can tear the fabric.
How Many Inches of Snow Can a Pool Cover Hold?
Although the exact amount can vary by the particular cover, it's important to not let too much snow accumulate on a solid or mesh winter cover. The type of snow is also a factor as wet, dense snow will weigh more than light, fluffy snow. It's important to watch the spring compression of your cover. If it gets close to being fully compressed, remove any snow or debris from the cover.
Winter Pool Cover Maintenance
Beyond routine cleaning and removing debris, snow and ice, below, we share more cover care tips and answer additional questions about solid and mesh winter pool cover maintenance.
How Long Does a Solid Pool Cover Last?
While the longevity of your pool cover depends on how well you maintain it, the climate in your region, and additional environmental factors that can affect wear and tear, solid pool covers generally last between 7 to 11 years. Proper pool cover maintenance can help to increase the lifespan of your pool cover, so make sure to contact a pool cover professional to schedule regular maintenance.
Maintain Tension
Solid and mesh winter covers are held in place by springs and straps that attach to the deck around the pool. All the springs are supposed to be under the same amount of tension, approximately, and about halfway compressed. You'll want to check these straps periodically throughout the off season and make adjustments if anything gets loose. And periodically check to make sure no gaps have opened up that might let a small living thing fall into the pool.
Initially, adjust the straps so that they are set to at least half compression. This will keep the cover tight and aid in draining. The springs should be checked periodically and the straps adjusted to maintain this tension.
How Tight Should a Winter Pool Cover Be?
A proper fit for your pool cover is vital to ensure it does its job to keep the elements out of your pool. You want to ensure that your cover is tight across the surface of your pool. If your cover is too loose, leaves and debris can make their way into your pool.
A pool cover professional can ensure your winter pool cover fits your pool properly for the highest level of protection.
How Do You Tighten a Winter Pool Cover?
The best way to tighten your pool cover is to call a pool professional. They can help you adjust the springs to ensure your winter pool cover sits tight over your pool.
Maintain Proper Water Level
The water level in your pool needs to be just right to ensure your cover works appropriately. Believe it or not, the water under the cover actually helps support the cover if there is snow on it. So you don't want the water level too low or you could damage your cover. If there is too much water in your pool it will create a wet spot where leaves and twigs might accumulate. If your water level does get too high, a small cover pump can remove the excess or you can use a garden hose to siphon off the extra water.
The water level in the pool should always be kept within 12″ of the top of the pool wall. Failure to do so will put more stress and tension on your safety cover resulting in damaging your cover, straps and springs. If the amount of load (snow or water) on your cover is extreme and then combined with excessive low water inside your pool, it could result in catastrophic pool failure.
Should Winter Pool Cover Touch Water?
As we mentioned above, it's important to maintain the proper water level under your cover, but you also want to make sure water doesn't touch the underside of your pool cover. This can create wet spots where debris can accumulate. This guide to winterizing your pool can help to answer these questions about cover installation.
Mark Your Cover
This is especially important if you live in an area where you get persistent snowfall. With a good snow covering, it can be hard to tell exactly where the edge of your pool is, and you don't want someone stumbling onto your pool cover. Use lawn stakes and twine or snow poles to mark the perimeter of your pool area. And however you choose to mark it, make sure it is visible. If your pool is in an area where you could get 8 inches of snow in a day, make sure your markers are plenty tall.
Winter Pool Cover Care Tips
Keep up with these few chores through the winter time and you'll have a pool that's practically ready for swimming when the weather warms up. Taking proper care of your cover will also prolong the life of it, saving you money on costly replacements. Maintain the water level and proper spring tension, keep debris off the cover, and your cover and pool should be in good shape.
If you're looking to upgrade your seasonal cover contact a local independent builder to learn more.