You've got your custom in-ground pool in your mind's eye, and it's gorgeous. It's a work of art that could easily stand alone as a fabulous focal point for your backyard. But as long as you're going to invest in a luxury swimming pool, why not go all the way and enhance the beauty of the surrounding area with an amazing deck? Factoring a deck into your pool plans can save you both time and money as opposed to deciding you may want to add a deck after your inground pool has been installed.
1. Eye-Catching Shapes and Unique Paver Design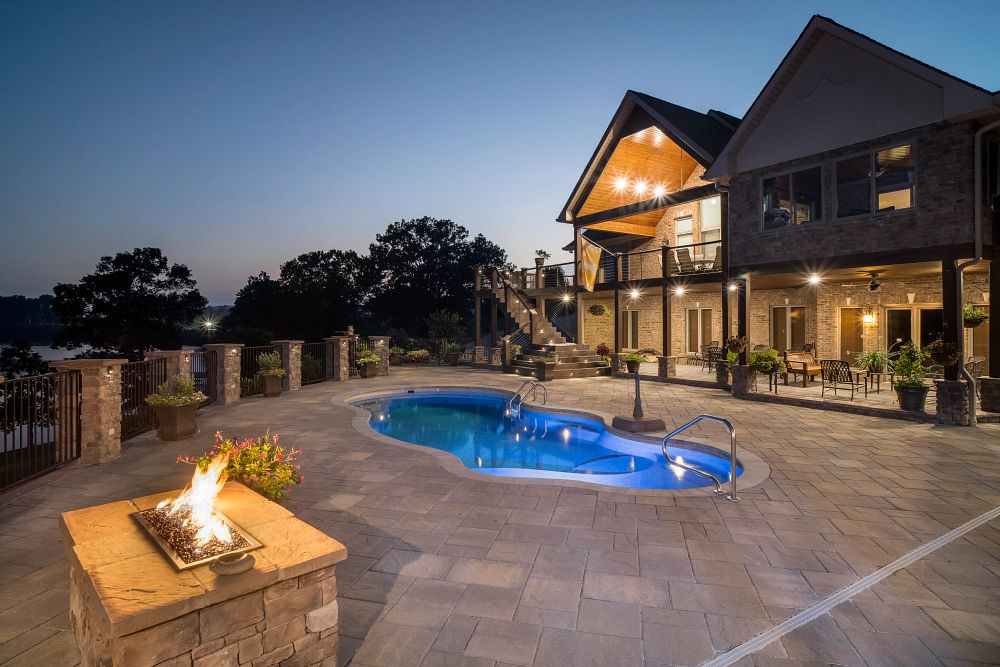 The best part of a paver design is its flexibility. As seen here, these classic stone pavers are a series of rectangles of different sizes, which gives this deck a more modern look. The oval-shaped pool itself, meanwhile, is classic in design, with elegant pool coping that frames its shape. This sparkling fiberglass pool is carved into a broader expanse of pavers that lends the effect of a discovered oasis, with the pool as the focal point. The contrast between the tranquil stone elements of the pavers and the crystalline brilliance of the pool play off of one another to create harmony.
2. Classic Wood
Here, natural wood decking provides an almost tonal effect, in a shade of blue-gray that complements the blue hue of the pool. The kidney-shaped Valencia fiberglass pool invites you for a cool dip, with its soft curves and clean lines along the pool's edges. The deck design can also be accomplished using other varieties of wood or even a composite material—though, natural wood can go a long way toward waterproofing a pool deck, thanks to sealants and stains.
3. Weathered Wood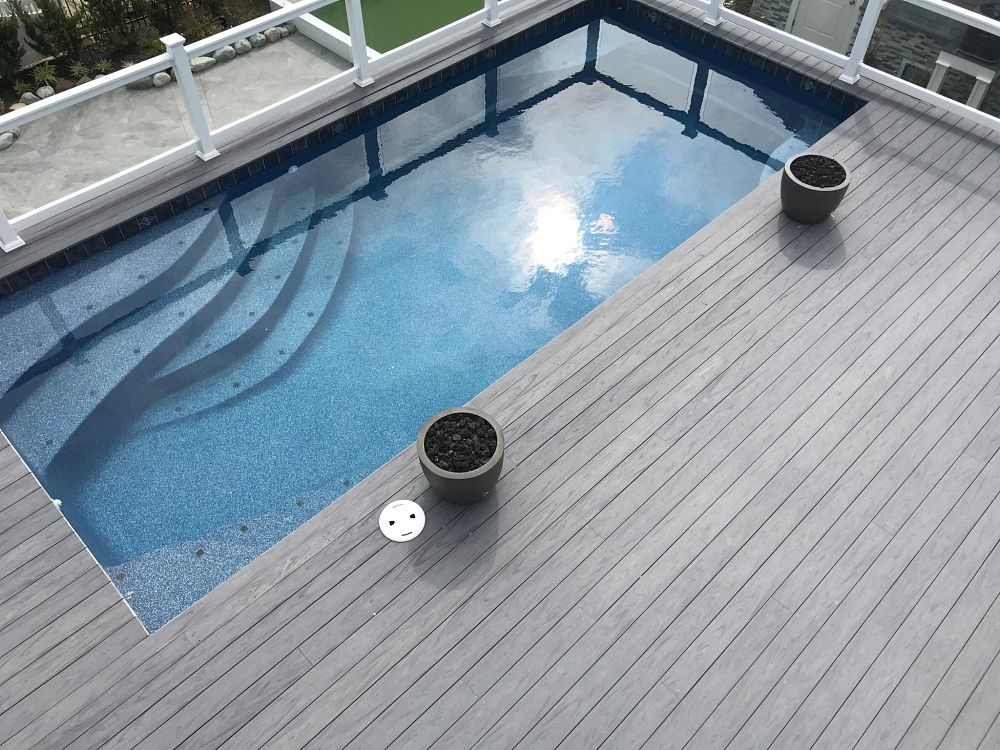 This simple gray decking is the perfect complement for a regctangular-shaped fiberglass pool. The rustic planks and minimal coping  come together in a style that is the definition of "simple beauty."
Any fiberglass pool can work with this space and style of decking. Better yet, these wooden planks aren't your only option to recreate this minimalist deck. Mahogany, for example, would add a forest-inspired feel while retaining the space's simplicity – and a darker, warmer-toned wood (or composite material!) can provide a stronger contrast against cool blue waters.
4. Creative Shapes and Contrast
This relaxing scene showcases how well light pavers—in this case, a natural gray stone—complement flowerbeds, shrubbery and plantlife. The clean, graceful stone allows the background greenery to pop, and seamlessly transitions into the cool blue of the vinyl liner pool. A lighter wood with the right stain, a soft-colored tile or even the right composite could inspire a similar sense of paradise for a pool deck.
5. The Natural Look
Set your pool against an abundance of greenery and you've got a winning combination. While the gray stonework does an excellent job of contrasting with the surrounding nature, it's only one of several options. Add composite decking or wood planks from redwood or cedar, which have the added benefit of being resilient against nature's worst byproduct: insects. You can also opt for a simple-and-clean porcelain tile that, in white, will bring your spa-day fantasies to life in your own backyard.
6. Traditional pool with a Modern Touch
The integrated water features and fire bowls add a modern feel to this traditional rectangular pool. The deck features stone-look coping with a rich pattern that mixes light and dark tones and meshes well with stone paver decking. This gives your pool a bright, cheery feel during the day that gives way to a warmer, more intimate feel at night.
This same design concept could be accomplished using other materials, such as a teak wood with a balanced brown. Concrete could be an attractive candidate, as it comes in a variety of colors (not just gray!), such as brown, beige or even multiple colors blended together.
7. Dark Tone Drama
The slate gray stone decking creates a dramatic look. Darker blue coping provides a striking ridge that highlights the unique clover shape of this vinyl pool. Meanwhile, rectangular pavers are laid at an angle to form a diamond-shaped pattern, creating a path that leads to the pool. The larger stone pavers form a contrast against the smaller stone pavers that form decking around the pool to create a tonal effect that still maintains contrast due to the different shapes. And who wouldn't love to hop out of the pool after a cool evening swim and get cozy by the fire?
8. Simply Shady
Accenting this stormy stone tile is a built-in wood bench that also serves as a sturdy base for an elevated deck. In hot, arid areas with less natural shade, like Nevada or Arizona, an elevated deck can provide your pool and surrounding decking with shelter from the blazing sun. Pool and decking professionals in your area will know exactly how to custom-outfit your space for pool sizing, materials, overflow sizing, and more. 
Those with a designer's eye will also want to pay attention to the style of their pool cover. Pictured is a deck mount bench with an automatic pool cover, which blends with the wood structure and adds earthy tones while offering everyday protection from accidents.
9. The Backyard Getaway
This freeform fiberglass pool is the breathtaking centerpiece of this relaxing backyard. Surrounding the free-form pool is a sandy brown expanse of concrete decking that cleverly curves to separate the pool and its adjoining spillover spa. For a similar aesthetic, try mosaic tiling or pavers. The concept could even take shape using a lighter wood, complementing the surrounding greenery.
10. Subtle and Classic
The subdued color palette for the materials around this in-ground pool make its tranquil blue color all the more vivid. The concrete deck is surrounded by a cleverly placed pergola and poolhouse, with a garden of trees and shrubbery flanking a classic vinyl liner rectangular pool. The concrete decking is functional without being fussy. As an added bonus, concrete is a great decking material for helping to prevent slip-and-falls.
For a similar aesthetic effect, try using an all-white porcelain material.
Endless Pool Decking Options
Of course, these are just some of the great ways that a pool and deck can complement one another. The point of this short list of suggestions is simply to get the creative juices flowing as you install or upgrade your pool and/or deck. Give it some thought and then go transform that space into something special.
After compiling a list of wants, needs, and dreams, contact a builder to lay the foundation for your future swimming pool deck.